Larry Clark
by Helmut Newton
Lawrence Donald "Larry" Clark
Larry Clark is one of the most important photographers and artists of the last half-century.
His seminal first book, Tulsa (1971), is still dangerous.
His directorial debut, KIDS (1995), established Mr. Clark's reputation as one of the most controversial and influential filmmakers of our time. Other films that followed like BULLY (2001) and KEN PARK (2002) prompted the MPAA (Motion Picture Association of America) censorship board to react by advising parents to "hide your children". Larry Clark's new film, MARFA GIRL (2012), written and directed by Mr. Clark, continues to refine his unique vision and art.
http://larryclark.com/about/
Photograph by Richard Blanshard
I don't try to be controversial, I just try to be honest and tell the truth about life. Coming from the art world, I never think there are things you can't do or show. I think that Hollywood films are really underestimating their audience. I've been an artist for many, many years. I'm not interested in making films to make money. I'm interested in making work that I'm satisfied with, showing people's lives that aren't shown. If I could see this anywhere else, I wouldn't have to make these films.
Photograph by Bob Richardson
Lawrence Donald "Larry" Clark (born January 19, 1943) is an American film director, photographer, writer and film producer who is best known for the movie Kids and his photography book Tulsa. His most common subject is youth who casually engage in illegal drug use, underage sex, and violence, and who are part of a specific subculture, such as surfing, punk rock or shateboarding.
Clark was born in Tulsa, Oklahoma. He learned photography at an early age. His mother was an itinerant baby photographer, and he was enlisted in the family business from the age of 13.
In 1959, Clark began injecting amphetamines with his friends. Routinely carrying a camera, from 1963 to 1971 Clark produced pictures of his drug-shooting coterie that have been described by critics as "exposing the reality of American suburban life at the fringe and ... shattering long-held mythical conventions that drugs and violence were an experience solely indicative of the urban landscape."
Clark attended the Layton School of Art in Milwaukee, Wisconsin where he studied under Walter Sheffer and Gerhard Bakker. In 1964, he moved to New York City to freelance, but was drafted within two months to serve in the Vietnam War. His experiences there led him to publish the book Tulsa in 1971, a photo documentary illustrating his young friends' drug use in black and white. His follow-up was Teenage Lust (1983), an "autobiography" of his teen past through the images of others. It included his family photos, more teenage drug use, graphic pictures of teenage sexual activity, and young male hustlers in Times Square, New York City. Clark constructed a photographic essay titled "The Perfect Childhood" that examined the effect of media in youth culture. His photographs are part of public collections at several prestigious art museums including the Whitney Museum of American Art, and the Museum of Fine Arts, Boston.
In 1993, Clark directed Chris Isaak's music video "Solitary Man". This experience developed into an interest in film direction. After publishing other photographic collections, Clark met Harmony Korine in New York and asked Korine to write the screenplay for his first feature film, Kids which was released to controversy and some critical acclaim in 1995. Clark continued directing, filming a handful of additional independent feature films in the several years after this.
In 2002, Clark spent several hours in a police cell after punching and trying to strangle Hamish McAlpine, the head of Metro Tartan, the UK distributor for Clark's film Ken Park. According to McAlpine, who was left with a broken nose, the incident arose from an argument about Israel and the Middle East, and he claims that he did not provoke Clark. The latter dismissed this version of events as "such bullshit, such a fucking lie," stating that McAlpine had described the September 11, 2001 attacks as "the best thing to have ever happened to America" and opined that child victims of terrorist attacks in Israel "fucking deserve to die." Clark later commented: "When someone gets up in my face with bullshit like this, I'm not gonna roll over and lick my nuts."
Clark is represented by Simon Lee Gallery in London and the Luhring Augustine Gallery in New York City. He has one son and one daughter.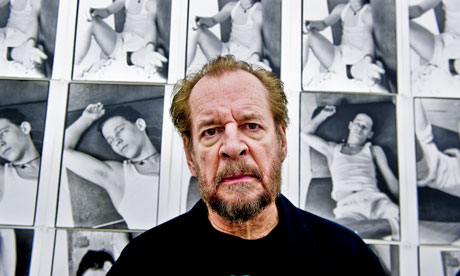 "The serious work starts in 1962. There's also going to be some of my mother's photographs to start the show, because
I worked for my parents when I was a kid. When I was 14 or 15 I started out taking baby pictures with my mother."
Justin Pierce & Larry Clark
"If kids think my work is cool, that's good," says Clark, taking the comment, and all its misguided enthusiasm, as the ultimate vindication of his work. "It means I don't bullshit, you know? Yeah, whatever, being cool is fine with me."
by Brian Wallis
Widely regarded as one of the most important and influential American photographers of his generation, Larry Clark is known for both his raw and contentious photographs and his controversial films focusing on teen sexuality, violence, and drug use. Clark burst into public consciousness with his landmark book Tulsa in 1971, and has continued to use photography to explore urgent social issues pertaining to youth culture. In particular, he is interested in investigating the perils and vulnerabilities of adolescent masculinity, which he often explores from an autobiographical perspective.
Born in Tulsa, Oklahoma, in 1943, Clark learned photography early. His mother was an itinerant baby photographer, and Clark himself was enlisted in the family business from the age of thirteen. By sixteen, Clark began shooting amphetamines with his friends. Always armed with a camera, Clark produced remarkably intimate and beautiful pictures of his drug-shooting coterie from 1963 to 1971. These pictures, later published in Tulsa, trace the trajectories of three young men through idealism and ecstasy to trauma and paranoia in the desolate afternoons of the Vietnam-era Midwest. In subsequent works Clark continued to explore and record the challenges faced by male teens: in Teenage Lust (1983) he chronicled the next generation of Tulsa teens as well as young male hustlers in Times Square; in The Perfect Childhood (1992), he looked at tabloid teen criminals and teenage models; and in the photo series "Skaters" (1992-95) and the film Kids (1995), he captured the community of skateboarders in New York's Washington Square Park. In all these works, Clark pursues a set of related themes: the destructiveness of dysfunctional family relationships, masculinity and the roots of violence, the links between mass imagery and social behaviors, and the construction of identity in adolescence.
To address these issues Clark often uses sexually explicit imagery, as well as scenes of overt drug use and violence, actions that are addressed casually by his subjects but which are often shocking to his audiences. These works are at once unimaginable and unforgettable. Reflecting the mission of the International Center of Photography—to show the ways photography represents and transforms the human condition—this exhibition presents influential work that has often been misunderstood. Clark's challenging work in photography and film, which addresses such socially relevant topics as teen violence, pornography, masculinity, censorship, and the influence of the media, will, we hope, afford viewers the opportunity to engage in a popular dialogue about these controversial issues. Few other artists have addressed these themes with such candor.
– Brian Wallis, Curator
TULSA
Clark's harrowing photo book Tulsa (1971) documents the aimless drug use, violence, and sex activities of Clark's circle of friends in his hometown. Taken in three protracted series between 1963 and 1971, the Tulsa photographs combine the documentary style and narrative sequencing of a Life magazine photo essay with startling intimacy and emotional intensity. The graphic and controversial subject matter, the seemingly illicit nature of the viewer's engagement, the remarkable low-light photography, and the restrained editorial pacing distinguish the extraordinary new style of subjective documentary that these pictures announced. But more than that, the pictures and the book were an extension of Clark's life. The book opens with this succinct narrative: "i was born in tulsa oklahoma in 1943. when i was sixteen i started shooting amphetamine. i shot with my friends everyday for three years and then left town but i've gone back through the years. once the needle goes in it never comes out. L.C."
The set of vintage prints in this exhibition are those that were used in the printing of the original edition of the book, which was published by Clark's friend and fellow photographer Ralph Gibson. The elusive but tightly edited sequence of Tulsa meant that many great photographs were not published; included here are a selection of vintage Tulsa outtakes. Also included are a selection of materials from Clark's autobiographical punk Picasso (2003) that comprise Tulsa-era photographs, artifacts, and family memorabilia.
Larry Clark
Teenage Lust,
Japan: Taka Ishi Gallery, 1997
TEENAGE LUST
Clark's second book, Teenage Lust (1983), was subtitled "An Autobiography of Larry Clark," though it is not autobiographical in any conventional sense. It includes early family snapshots and follows a rough biographical chronology, but Clark's primary intention seems to be to "turn back the years" and to relive moments of his own teen past through images of others. This installation shows the photographs and other materials that were used to make the original book. Roughly divided into three sections, Teenage Lust begins with Clark's family photographs and his move to New York City: then contrasts his various run-ins with the law with his quest for a utopian hippie life in New Mexico: and concludes with a powerful and touching series of portraits of young male hustlers in the Times Square area. More sprawling, experimental, and explicit than Tulsa, Teenage Lust has at its core the rawness, vulnerability, and uncertainty of adolescence, a key strain that runs throughout Clark's work.
Quarto, first Japanese edition (preceded by a 1983 English-language edition), unpaginated with 98 pages of photos, mostly duotone, white illustrated wraps. This is the expanded version with an additional 13 pages of photos and a handwritten page of text by Clark. That's in English, as is all the captioning. The photographer's 23-page essay has been translated into Japanese. Clark told Roth (The Book of 101 Books) that the first edition was incomplete and he prefers this one. See Roth pp. 244-5 and Bertolotti Page 260.
I wish I could show more here but the venue won't allow it. Clark called this an autobiography although he used people who were about 10 years younger than he, growing up under the same circumstances he did in the Southwest U.S. It's a story of sex, drug abuse and aimless living, with the final part of the book shot among young male hustlers on 42nd Street in New York City, back when it was a center of prostitution. Clark had to finance first publication himself because the original publisher wanted deletions he wouldn't make.
The "Skaters" series assembles color portraits of teenage skateboarders that Clark took in New York City during the 1990s. Some of these portraits were taken in Clark's studio, but most were made in Washington Square Park, where he met Harmony Korine, who would later write the screenplay for Kids, and the skaters who would become members of the cast of Kids. The freedom of skateboarders appealed to Clark; these were kids who could navigate the city on their own, without parents. This tension between youthful independence and parental neglect is a theme throughout Clark's later work. The series also represents a return to a more documentary style, and has a clear link to Clark's film work.
FILMS
Video screening Schedule at ICP
35mm films at the Pioneer Theater
The distinctive style, controversial subject matter, and critical success of Clark's small body of feature films easily establish him as one of the leading independent directors today. After three decades of still photography, Clark's move to filmmaking seemed natural; he had set his sights on movies since the early Tulsa days. His first feature film, Kids (1995), was a day-in-the-life tale of a young HIV-positive lothario and his skateboarding teen cohorts. Its documentary-like look and its nonjudgmental point of view, particularly on teen sex and drug use, created a national controversy when first released. The follow-up to Kids, Another Day in Paradise (1998), was Clark's version of a crime-spree road movie, in which two experienced criminals and junkies take a young couple under their wing. It evolves into the young man's coming-of-age story as his makeshift family disintegrates under the weight of the violence and drug addiction around him. His subsequent films, especially Bully (2001) and the unreleased Ken Park, offered an increasingly bleak and explicit view of the alienation, boredom, and hostility of white, middle-class youth culture in the context of rudderless parenting. Clark has said that these films are intended to spark a dialogue about what is really going on with America's youth. So, while these films revive the images of teen sex and violence, Clark really sees them as about a loss of innocence.
http://museum.icp.org/museum/exhibitions/larry_clark/films.html
Clark's films often deal with seemingly lurid material but are told in a straightforward manner. Directors such as Gus Van Sant and Martin Scorsese have stated that they were influenced by Clark's early photography, according to Peter Biskind's book Down and Dirty Pictures. In both his photographic and cinematic works, Clark pursues a set of related themes: the destructiveness of disfunctional family relationships, masculinity and the roots of violence, religious intolerance and bigotry, the links between mass imagery and social behaviors, and the construction of identity and sexuality in adolescence.
Film critics who do not find social or artistic value in Clark's work have labeled his films obscene, exploitative, and borderline child pornography because of their frequent and explicit depictions of teenagers using drugs and having sex. In Kids, his most widely known film, boys portrayed as being as young as 12 are shown to be casually drinking alcohol and using other drugs. The film received an NC-17 rating, and was later released without a rating when Disney bought Miramax. Ken Park is a more sexually and violently graphic film than Kids, including a scene of auto-erotic asphyxiation and ejaculation by an apparently underage male (although the actors are all 18 and older). As of 2008, it has not been widely released nor distributed in the United States.
In Australia, Ken Park was banned for its graphic sexual content, and a protest screening held in response was immediately shut down by the police. Australian film critic Margaret Pomeranz, co-host of At the Movies, was almost arrested for screening the film at a hall. The film was not released in the United States, but Clark says that it was because of the producer's failure to get releases for the music used.
Clark has won the top prizes at both the Cognac Festival du Film Policier (for Another Day in Paradise), the Stockolm Film Festival (for Bully) and the Rome Film Festival (for (Marfa Girl). He has also competed for the Golden Palm (Kids) and Golden Lion (Bully).