Mayra Verónica (born Mayra Verónica Aruca Rodríguez August 20, 1980) is an American model and singer most famous for appearances on Spanish-language television. Verónica's role on Univision's Don Francisco Presenta brought her to the attention of FHM magazine's US edition.
Mayra Verónica was born in Havana, Cuba, where her father was a member of Cuba's big band, Los Dada. In 1984, she came to the US with her mother, Mayra Rodriguez, leaving behind the rest of her family including her father, Arturo Aruca, and sister Giselle Guzman. Her father came a year later and reunited with Veronica and her mother, while her sister was unable to meet them until thirteen years later. Mayra grew up with little money and food was sometimes scarce.
A gifted student, Verónica made her way through ballet school by befriending other girls (other students from her school who could afford the training), while surviving difficult financial circumstances at home. Her body began maturing during her middle school years, causing her to no longer be able to do ballet. Her first boyfriend, at the age of 15, was an artist of the same age who often painted her nude or semi-nude.
Career.
Pageants and modeling.
She began as a correspondent, but was promoted to celebrity hostess for the show. She interviewed celebrities like Donald Trump, Oscar de la Renta, Hugh Hefner, and Dennis Rodman. Throughout, Verónica traveled to New York to continue acting training at the Lee Strasberg Institute to fine tune her craft, until the station (owned by Media One) was bought by AT&T Corporation and subsequently closed.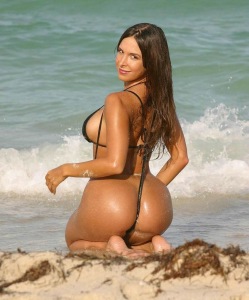 Cover girl.
FHM, the top men's magazine of the time, contacted Veronica's publicist to ask for a feature spread on their magazine. Veronica agreed and after mail requesting her return, she went on to appear on the cover of the FHM exclusive collection book, which included top sex symbols of the decade such as Pamela Anderson, Eva Longoria, and Carmen Electra. From 2004-2010 Mayra Verónica made FHM's "Sexiest Women In The World" list 6 years in a row.
Music.'Vengo Con To'.
Europe did not seem to mind and Mayra signed a deal with a German label for the European release of the album. The album's popularity landed Verónica a deal with Universal Motown, which put out a second single from the album titled "Mamma Mia" which also did very well on radio.
A third single, "Es Tan Dificil Olvidarte", dedicated to the fallen troops, put Verónica in the top 10 on the pop contemporary charts. Verónica continued her work with the troops by visiting the wounded at camp Lejeune.
Ultra Music.
"Mama Mia" is the most recent chart success for Mayra Veronica. The Cuban-American singer/songwriter, who presently holds an exclusive worldwide publishing deal with BMG Chrysalis, first gained chart notoriety with "If You Wanna Fly", which penetrated five different Billboard charts, including the coveted, Billboard Digital Sales Chart. Her second single, "Freak Like Me" earned her a number three position on the Billboard Dance Chart, and garnered slots on numerous international Billboard charts. The new video for "Mama Mia" is set to be launched on January 30 on Ultra Music's YouTube Channel.
Following this, The "Mama Mia" (Remixes) EP, which showcases versions orchestrated by Dave Aude, Chocolate Puma, Robbie Rivera, Sick Individuals, Genairo Nvilla and Razor N' Guido. Mayra Veronica will kick off a world tour in support of "Mama Mia" in the spring, with Soneros de Verdad and The Sons of the Buena Vista Social Club sharing the bill.
IDMA Awards.
In 2014 Mayra Veronica's #1 Billboard Dance song "Mama Mia" was nominated for '"Best Latin Dance Song of The Year" at the 29th Annual International Dance Music Awards (IDMA). In this category Mayra was up against Ricky Martin, Daddy Yankee, Pitbull Feat. Christina Aguilera, Enrique Iglesias and Marc Anthony,
Discography.
2007: Vengo Con To'
2010: Saint Nor Sinner
2013: Mama Mia
Singles.
Hot Dance Club Play Hot Dance Airplay Heatseeker Songs Dance/Electronic Digital Songs
2010 "If You Wanna Fly" 9 11 21 5 Saint Nor Sinner
2011 "Freak Like Me" 3 15 – 25
2013 "Ay Mama Mia" 1 – – –
2010 If You Wanna Fly (The Remixes)
2011 Freak Like Me (The Remixes)
2011 Freak Like Me (Manuel De La Mare Remixes & Eddie Amador Dub)
2013 Ay Mama Mia (The Remixes)
2013 Ay Mama Mia (The Remixes Dubs)
2013 Mama Mia
2013 Mama Mia (The Remixes)
Agencies/Wiki/InternetPhotos/youtube/thecubanhistory.com
The Cuban History, HOLLYWOOD.
Arnoldo Varona, Editor.