Dephne du Maurier
Daphne du Maurier was an English writer of romantic suspense novels, mostly set on the coast of Cornwall where she spent most of her life. She is best-known for her bestseller novels Rebecca, Jamaica Inn, Frenchman's Creek, and My Cousin Rachel, with all these novels becoming film blockbusters.


Daphne du Maurier was born in London on May 13, 1907. She came from an artistic family whose father was an actor-manager. Her grandfather was an artist and novelist. She was married to Frederick Arthur Montague Browning, a lieutenant-general in the British Army
.
In 1969, Du Maurier was made a Dame of the British Empire. She died in Cornwall on April 19, 1989, at the age of 81.


Her first novel, The Loving Spirit, was published when Du Maurier was 24-years-old. A string of other novels followed, some of them with historical settings.
Her most famous book, Rebecca, is a Gothic bestseller. The hero in the story is unable to forget his tragic first marriage while he tries to be happy with his second wife, Rebecca.
Rebecca was made into a movie in 1940, starring Laurence Olivier and Joan Fontaine, and was voted the best picture of that year. It was directed by the famous director Alfred Hitchcock, who also directed the 1963 film of du Maurier's frightening novel The Birds starring Tippi Hedren in her movie debut.
Other bestsellers also made into successful motion pictures include Jamaica Inn, a tale of smugglers, Frenchman's Creek, a pirate romance, and My Cousin Rachel, a sensational romance.




Other Writing Genres of Du Maurier
Du Maurier also wrote biographies of members of her family and of Francis Bacon, an English statesman in the 1500s and 1600s, and a notable biography of Anne Brontë. At age 70 she published her autobiography, Myself When Young.


Daphne Du Maurier Quote
Du Maurier once wrote, "We are all ghosts of yesterday, and the phantom of tomorrow awaits us alike in the sunshine or in shadow, dimly perceived at times, never entirely lost." ~ Growing Pains, Published in the USA as Myself When Young.
Rebecca by Daphne Du Maurier
The best 20th century version of the Jane Eyre/Wuthering Heights story, built off the identical premise of a dark host. It is the introduction of noir, partly due to Hitchcock's popular film adaptation and the darker results of the drama that made du Maurier's novel such a sensation in its own time. Now it serves a set of new readers as the ideal paperback for any occasion.



Works by Daphne Du Maurier
The Loving Spirit, 1931
Jamaica Inn, 1936
Rebecca, 1938
Frenchman's Creek, 1941
September Tide, 1948
My Cousin Rachel, 1951
Kiss Me Again, Stranger (including The Birds), 1952
The Scapegoat, 1957
Vanishing Cornwall, 1967
Myself When Young, 1977
Sources:
Goring, Rosemary, Ed. Larousse Dictionary of Writers. New York: Larousse, 1994.
Ousby, Ian. The Cambridge Guide to Literature in English. Cambridge: Cambridge University Press, 1993.
Payne, Tom. The A-Z of Great Writers. London: Carlton, 1997.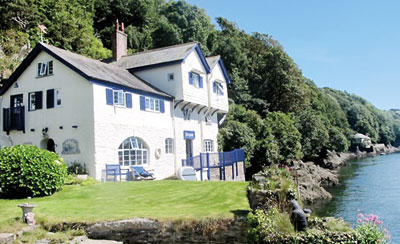 The house that inspired Daphne du Maurier
Christopher Ondaatje steps into the romantic getaway in Cornwall where the aspiring author wrote her first novel 'The Loving Spririt'
Long before Rebecca, and long before Menabilly (Manderley in Daphne du Maurier's best loved novel) there was Ferryside. The large 1860s cream and blue building cradled into the water's edge is a former boathouse which was discovered by her, with her mother and two sisters, while motoring down to the south coast of Cornwall in September 1926. She was only 19 years old.
The house she loved (top) and (right) Daphne du Maurier rowing across Fowey estuary to "Ferryside'
As she remembered "The hired car swept round the curve of the hill and suddenly the full expanse of Fowey harbour was spread beneath us. The contrast between this sheet of wide water, the nearby jetties, the moored ships, the grey roofs of Fowey across the way, the clustering cottages of Polruan on the opposite hill by the harbour mouth, and narrow claustrophobic Looe where we had spent the night on our way down from London was astonishing, like the gateway to another world." It is still the same today.
Ferryside is right on the water at the foot of the hill in Bodinnick. In 1926 the car deposited the budding novelist's mother and daughters at the foot of the hill by the ferry and they either had to cross the ferry into Fowey (pronounced Foy) or else lunch at the Old Ferry Inn which is still there today opposite Ferryside. Climbing the hill to the Inn the girls noticed a "For Sale" sign on a gate just above the ferry. Behind it was a strange looking house built like a Swiss chalet. The ferryman standing nearby confirmed that it was called Swiss Cottage and that they used to build boats there, and use the second floor for lofts.
After lunch the du Maurier girls, led by Daphne, went into the boat yard and found yet another gate that led to the other side of the house and discovered the remains of a garden. The chalet part of the house was built against the rock, with the windows facing out across the harbour. Nothing has changed. The house is still owned by Kits Browning, Daphne du Maurier's son, and I visited him on a glorious day this summer. Looking out from the house I could imagine the young du Maurier seeing the blue water immediately below as I looked towards the harbour mouth. Boats were everywhere and larger yachts at anchor. "There was a smell in the air of tar and rope and rusted chain, a smell of tidal water," du Maurier remembered.
Here then was the isolation that the young du Maurier craved – away from the crowded city life with all its duties and restrictions. Here was the freedom to write, to explore, to climb the hill walks, to boat, and to be alone. Swiss Cottage was bought and re-named Ferryside. All through that winter and the next spring decorators and builders transformed the old boat house and in May that year she came back to Ferryside and was left alone for the first time in her life. It was here in the middle floor bedroom overlooking the harbour that she wrote her first novel The Loving Spirit published in 1931. It is a room for dreamers and the bewitched du Maurier wrote three other novels before the publication in 1938 of Rebecca that made her one of the most popular authors of her day. Menabilly is only a few miles away across the estuary on the Gribbin peninsula.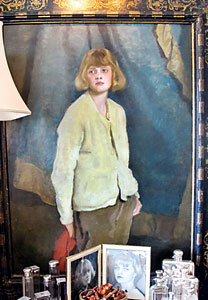 The way she was:
Portrait of the young Daphne du Maurier
Ferryside today is exactly what you would expect it to be – full of character, jammed with family memorabilia: the Harrington Mann portrait of a youthful Daphne du Maurier, a smaller version of the Frederick Whiting portrait of the young du Maurier sisters (now in the House of Lords), portraits of both Kits' father, Major Tommy "Boy" Browning, and his grandfather the actor-manager Gerald du Maurier. Silver-framed family photographs are all dotted around the ground-floor drawing room. As one enters Ferryside from the front door one looks down the length of the dining room to two comfortable pale green and cream sofas around an old brick log-burning fireplace. At the end of the drawing room is an enormous mirror which cleverly gives the impression that the room continues on for several feet. In the north-west corner is the giant figurehead of the abandoned schooner Jane Slade which inspired The Loving Spirit. It is not a huge house but the location is superbly romantic. The side hatch door opens right on to the Fowey estuary and is separated from the water only by a parapet and narrow strip of lawn.
The three light airy bedrooms on the middle floor are reached by a stairway that climbs up the inside of the white painted rock face against which Ferryside is built. "I for this, and this for me", du Maurier said. It was at Ferryside that she met and fell in love with the 35- year-old Major Tommy "Boy" Browning of the Grenadier Guards, who was so enamoured with The Loving Spirit that he cruised into Fowey in his 20 foot boat Ygdrasil in 1931 determined to meet the young author. They were married in July the following year in the 14th century Lanteglos Church some way up the Polruan hill behind Ferryside.
Curiously the kitchen at Ferryside is conveniently on the top floor of the house next to the master bedroom. It spills out on to a deck with a staggeringly beautiful view southwards down the Fowey estuary and the open sea. Only a solitary palm tree silhouetted against the skyline disturbs an otherwise tranquil horizon.
Not surprisingly for a house as old as Ferryside the ceilings are quite low – but not threatening except for the entrance doors. At night the lights of Polruan and Fowey give glimpses of a different world. Anchored ships reach up through the darkness. Ghost trees frame the legendary scene and one hears or imagines suspicious voices echoing over the sweeping bay. This is where smugglers used to ply their trade.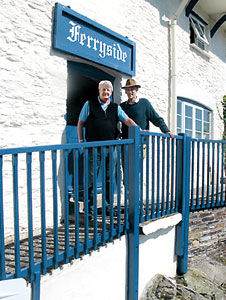 Christopher Ondaatje (right)
with Kits Browning
The six mile Hall Walk from Ferryside is a simple stroll through the lower reaches of Port Pil and on to Polruan. Follow it and it will return you safely back to Bodinnick.
As Kits Browning explained, his mother never actually owned Ferryside but lived here on and off from the home she shared in Kent with her husband and eventually three children. Then in 1943, on a whim, she rented the mysterious and dilapidated Menabilly from the Rashleigh family. It was in a fearful state but she somehow restored it and lived there for the next 26 years.
However, it was in Ferryside that she discovered herself and the magical world of make-believe and it was from here, while walking that she discovered the derelict schooner Jane Slade, and it was in Ferryside that she began writing The Loving Spirit one "wild day in October with a howling sou'westerly wind and slashing rain, a rug wrapped around my knees, sitting at the desk in my bedroom at Ferryside. Its title came from a poem by Emily Bronte.
The inspiration to write a novel comes from within. The Loving Spirit was inspired by the sense of freedom that my new existence at Ferryside brought." It is that sense of freedom that still exists today at Ferryside.
English novelist, biographer, and playwright, who published romantic suspense novels, mostly set on the coast of Cornwall. Du Maurier is best known for REBECCA (1938), filmed by Alfred Hitchcock in 1940. Orson Welles's radio adaptation from 1938 also paved way for its success. The novel has been characterized as the last and most famous imitations of Charlotte Brontë's Jane Eyre (1847).
"Adventure was here. Adventure was there. Adventure was in picking up a posy dropped by a lady and offering it to an old gentleman who patted her head and gave her two-pence. Adventure was in gazing into pawnbrokers' windows, in riding in wagons when the carter smiled, in scuffling with apprentice boys, in hovering outside the bookshops, and when the bookseller was inside, tearing out the middle pages to read at home, for prospective purchasers never looked at anything but the beginning and the end." (from Mary Anne, 1954)
Daphne du Maurier was born in London into an artistic family. She was the granddaughter of caricaturist George du Maurier, her mother, Muriel Beaumont, was an actress, and her father was the actor-manager Sir Gerald du Maurier, who turned to writing and created the mad hypnotist Svengali. One of her ancestors was Mary Anne Clarke, the mistress of the duke of York, second son of King George III. She later became the heroine of du Maurier's novel MARY ANNE (1954). In 1831 Mary Anne Clarke's daughter married Louis-Mathurin Busson du Maurier. Her father Du Maurier portrayed in GERALD (1934). THE GLASS-BLOWERS (1963) was a novel about the Busson family.
Du Maurier grew up in a lively London household, where friends like J.M. Barrie and Edgar Wallace visited frequently. She was a voracious reader, fascinated by imaginary worlds. Her uncle, a magazine editor, published one of her stories when Du Maurier was only a teenager and got her a literary agent. Keen aware that of her father's desire for a son, she grew up wishing that she had been a boy. However, she was her father's favorite, partly due to her literary talents. Her masculine alter ego she called "Eric Avon". Du Maurier also had a male narrator in several novels. Later in life she wrote in a letter, "And then the boy realised he had to grow up and not to be a boy any longer, so he turned into a girl and not an unattractive one at that, and the boy was locked in a box forever."
Du Maurier attended schools in London, Meudon, France, and Paris. Her first book, THE LOVING SPIRIT, appeared in 1931. It was followed by JAMAICA INN (1936), a historical tale of smugglers, which was bought for the movies, and directed by Alfred Hitchcock, who later used her short story, 'The Birds', a tense tale of nature turning on humanity, for another film production. Also Du Maurier's FRENCHMAN'S CREEK, a pirate romance, and MY COUSIN RACHEL (1951), were succesfully filmed. The latter examined how a man may be manipulated by a woman, who perhaps has murdered her husband. Ambrose Ashley meets the beautiful Rachel Sangaletti, marries her and died six months later. He has sent letters to his nephew Philip, the narrator, who first hates Rachel, and then is bewitched by her. Du Maurier leaves open the question, is Rachel a posoner, or an innocent victim of Ambrose's and then Philip's paranoid fantasies. The author herself was as puzzled as her readers, did Rachel kill Ambrose. "Sometimes I think she did, sometimes I didn't - in the end I just couldn't make up my mind," du Maurier said. Rachel dies, taking the secret with her, but Philip's role in her death is clear, and perhaps he is the real murderer of the story.
Before du Maurier married Lieutenant Colonel Frederick Arthur Montague Browning II in 1932, she had sexual liaison with the director Carol Reed. Browning, who was knighted for his distinguished service during World War II, died in 1965. Though their union appeared perfect on the surface – they were married for thirty-three years and had three children – she felt uncomfortable with other army wives. In 1947 Du Maurier fell in love with Ellen Doubleday, the wife of her American publisher, who remained her lifelong friend, and then with the actress Gertrude Lawrence.
Du Maurier was made dame in 1969 for her literary distinction. She died on April 19, 1989. Her pictorial memoir, ENCHANTED CORNWALL, appeared posthumously in 1992. With her son, Christian, she published VANISHING CORNWALL in 1967. LikeRebecca, many of her novels and short stories were set in Cornwall, England's westernmost county, whose wild, stormy weather and wild past inspired her imagination. "Here was the freedom I desired, long sought-for, not yet known," she wrote in Vanishing Cornwall. "Freedom to write, to walk, to wander, freedom to climb hills, to pull a boat, to be alone." Du Maurier's home was at a seventeenth-century mansion, Menabilly, overlooking the sea, for a quarter of a century. The house became the scene of her historical novel THE KING'S GENERAL (1946).
Rebecca's opening line, "Last night I dreamt I went to Manderley again," is among the most memorable in twentieth-century literature. The story centers on a young and timid heroine. Her life is made miserable by her strangely behaving husband, Maxim de Winter, whom she just have married. Maxim is a wealthy widower, whose wife Rebecca has died in mysterious circumstances. His house is ruled by Mrs. Danvers, the housekeeper, who has made Rebecca's room a shrine. Du Maurier focuses on the fears and fantasies of the new wife, who eventually learns, that her husband did not love his former wife, a cruel, egoistical woman. Because of the familiar plot, suits of plagiarism were brought against du Maurier, but they were dropped when the widespread use of the theme, beginning from Charlotte Brontë's works, was established. Rebecca has also similarities with Carolina Nabuco's book A Sucessora (1934). Du Maurier's story, on the other hand, inspired Maureen Freely's The Other Rebecca (1996), in which the enigmatic Maxim de Winter appears as Max Midwinter.
Du Maurier started to write Rebecca while traveling in Egypt. First the work progressed slowly, but then Du Maurier poured all of her own emotions in the central characted after learning about her husband's earlier live and his great love, Jan Ricardo, who had been an exotic, dark beauty. Ricardo died tragically during the war; she committed suicide by throwing herself under a train. Before Alfred Hitchcock's film version, Orson Welles made a radio dramatization of Rebecca. It was performed in December 1938 by The Campbell Playhouse and sponsored by Campbell Soup. The adaptation starts with Bernard Herrmann's waltz-ladden score, but is then interrupted by an "important message from a man who keeps one eye on the dining table and another on the pantry..." Welles played Maxim de Winter and Margaret Sullavan the second Mrs de Winter. The producer David O. Selznick sent a transcript of the broadcast to Hitchcock. "If we do in motion pictures as fauthful a job as Welles did on the radio," Selznick wrote, "we are likely to have the same success the book had and the same success that Welles had."
Besides popular novels Du Maurier published short stories, plays, and biographies, among others Branwell Brontë's, the brother of sisters Anne, Charlotte and Emily. Her biography of Francis Bacon, an English statesman in the 1500s and 1600s, appeared in 1976. Du Maurier's autobiography, GROWING PAINS, was published when she was 70. In the late 1950s, du Maurier began to take interest in the supernatural. During this period she wrote several stories, which explored fears and paranoid fantasies, among them 'The Pool', in which a young girl glimpses a magical world in the woods, but is later barred from it, and 'The Blue Lenses', in which a woman sees everyone around her having the head of an animal. In 1970 appeared her second collection of short stories, NOT AFTER MIDNIGHT, which included 'Don't Look Now', a tale set in Venice, involving a psychic old lady, a man with the sixth sense, and a murderous dwarf. A film version of the story, directed by Nicholas Roeg, was made in 1973. Du Maurier received in 1977 the Grand Master Award from the Mystery Writers of America.
For further reading: Daphne Du Maurier by Richard Kelly ( 1987); Daphne: The Life of Daphne du Maurier by Judith Cook (1991); The Private World of Daphne du Maurier by Martyn Shallcross (1992); Daphne du Maurier by Margaret Forster (1993); Daphne Du Maurier: A Daughter's Memoir by Flavia Leng (1995); Daphne Du Maurier: Writing, Identity and the Gothic Imagination by Avril Horner, Sue Zlosnik (1998); Mystery and Suspense Writers, vol. 1, ed. by Robin W. Winks (1998); Daphne Du Maurier, Haunted Heiress by Nina Auerbach (1999) -George Du Maurier (1834-96). Artist and illustrator, born in Paris. Joined the staff of Punch, and gained fame as a satirist. Wrote and illustrated three novels. He produced his first novel, Peter Ibbetson (1891), at the age of fifty-six, and then wrote Trilby (1894), which brought the name of a character, Svengali, to common use. - Note: Du Maurier's and actress Gertrude Lawrence's love letters were published in Daphne Du Maurier: The Secret Life of the Renowned Storyteller by Margaret Forster (1993).
Selected works:
THE LOVING SPIRIT, 1931

I'LL NEVER BE YOUNG AGAIN, 1932

THE PROGRESS OF JULIUS, 1933

GERALD: A PORTRAIT, 1934

JAMAICA INN, 1936 - Film 1939, dir. by Alfred Hitchcock, script Sidney Gillant, Joan Harrison, J:B. Priestley, based on Daphne Du Maurier's novel (uncredited), starring Maureen O'Hara, Robert Newton and Charles Laughton; 1983, TV movie, dir. Lawrence Gordon Clark, teleplay Derek Marlowe, starring Jane Seymour, Patrick McGoohan and Trevor Eve; 1995, L'auberge de la Jamaïque, TV movie prod. 13 Productions, France 2 Cinéma, dir. Gilles Béhat, starring Alice Béat, Isabelle Roelandt and Harry Cleven.

THE DU MAURIERS, 1937

REBECCA, 1938 - Rebecca (suom. Helvi Vasara, 1938) - Films: 1940, dir. by Alfred Hitchcock, starring Laurence Olivier, Joan Fontaine, George Sanders. Rebecca was one of the top five box-office hits of 1940 and won Academy Awards for Best Picture and Cinematography. However, all reviews were not positive: "Dave Selznick's picture is too tragic and deeply psychological to hit the fancy of wide audience appeal... General audiences will tab it as a long-drawn out drama that could have been told better in less footage." (Variety, March 27. 1940) Du Maurier herself did not like the film, which shifted the locale from Cornwall to America. - 1948, TV movie, in The Philco Television Playhouse, dir. Fred Coe, with Bob Haymes, Bert Lytell and Florence Reed; 1950, TV movie, in Robert Montgomery Presents, with Barbara Bel Geddes, Robert Montgomery and Sue Ellen Blake; 1952, TV movie, in Broadway Television Theatre, with Patricia Breslin and Scott Forbes; 1962, TV movie, prod. National Broadcasting Company (NBC), starring James Mason, Joan Hackett and Nina Foch; 1969, TV movie, prod. Radiotelevisione Italiana (RAI), dir. Eros Macchi, starring Amedeo Nazzari, Ileana Ghione and Elena Zareschi; 1969, Mi amor por ti, TV series, dir. Raúl Araiza, with María Rivas, Guillermo Murray and Anita Blanch; 1979, TV mini-series, prod. British Broadcasting Corporation (BBC), dir. Simon Langton, starring Jeremy Brett, Joanna David and Elspeth March; 1997, TV movie, dir. Jim O'Brien, starring Charles Dance, Diana Rigg and Geraldine James; Rebecca, la prima moglie, 2008, TV drama, prod. Rai Fiction, Titanus, dir. Riccardo Milani, with Alessio Boni, Cristiana Capotondi and Mariangela Melato.

HAPPY CHRISTMAS, 1940

REBECCA, 1940 (play)

COME WIND, COME WEATHER, 1941

FRENCHMAN'S CREEK, 1941 - Merirosvo ja kartanonrouva (suom. Raili Phan-Chan, 1968) - Film 1944, dir. by Mitchell Leisen, starring Joan Fontaine, Arturo de Cordova, Basil Rathbone, Nigel Bruce; 1998, TV film, prod. Carlton Television, dir. FerdinandFairfax, with Tara Fitzgerald, Anthony Delon and Tim Dutton.

HUNGRY HILL, 1943 (film adaptation in 1947) - Neljänteen sukupolveen (suom. Maija-Liisa Virtanen, 1955) - Film 1947, prod. Two Cities Films, dir. Brian Desmond Hurst, screenplay Daphne du Maurier with Terence Young and Francis Crowdy, starring Margaret Lockwood, Dennis Price, Cecil Parker, Michael Denison.

SPRING PICTURE, 1944

THE YEARS BETWEEN, 1944 (play)

LONDON AND PARIS, 1945

THE YEARS BETWEEN, 1945 -

Film: 1946, prod. Sydney Box Productions, dir. by Compton Bennett, starring Michael Redgrave, Valerie Hobson, Flora Robson, Felix Aylmer.

THE KING'S GENERAL, 1946

SEPTEMBER TIDE, 1948 (play) - Films: 1950, TV movie, in Kraft Television Theatre, with Ruth Matteson and Robert Pastene; 1952, TV movie, in Kraft Television Theatre, with Robert Pastene and Esther Ralston; 1954, TV movie dir. Buzz Kulik, with Maureen O'Sullivan and John Sutton.

SEPTEMBER TIDE, 1949

THE PARASITES, 1949

THE YOUNG GEORGE DU MAURIER, 1951 (ed.)

MY COUSIN RACHEL, 1951 - Serkkuni Raakel (suom. Kyllikki Mäntylä, 1952) - Films: 1952, prod. Twentieth Century Fox Film Corporation, dir. by Henry Koster, script Nunnally Johnson. starring Olivia de Haviland, Richard Burton, Audrey Dalton, Ronald Squire; 1983, TV mini-series, prod. British Broadcasting Corporation (BBC), with Geraldine Chaplin, Christopher Guard and Jamie Cresswell.

THE APPLE TREE: A SHORT NOVEL AND SEVERAL LONG STORIES, 1952 (includes The Birds; as Kiss Me Again, Stranger, 1953; The Birds and Other Stories, 1968) - Linnut ja muita kertomuksia (suom. Liisa Hakola, 3. p. 1975) / Kauhunkierre: viisi kertomusta (suom. Liisa Hakola, 1976) - Films: The Birds, TV film 1955, in Danger, adaptation James P. Cavanagh, with Betty Lou Holland, Michael Strong and Ian Tucker; The Birds, 1962, prod. Universal Pictures, Alfred J. Hitchcock Productions, dir. Alfred Hitchcock, script Evan Hunter, starring Rod Taylor, Tippi Hedren, Suzanne Pleshette, Jessica Tandy. Birds was slaughtered by Stanley Kauffman in the New Republic (April 13, 1963):"The script by Evan Hunter... is absolutely bereft of even the slick-magazine sophistication that Hitchcock's films usually have. The dialogue is stupid, the characters insufficiently developed to rank as cliches, the story incohesive... Suzanne Pleshette as a local schoolteacher is unobjectionable. The rest of the cast are offensively bad." - Kiss Me Again, Stranger, TV film 1953, in Suspense, dir. Robert Mulligan, adaptation James P. Cavanagh, with Maria Riva, Richard Waring and Esther Mitchell; Kiss Me Again, Stranger, TV film 1958, in Pursuit, dir. David Greene, with Mary Beth Hughes, Jeffrey Hunter and Myron McCormick; Kiss Me Again Stranger, TV movie 1974, in Rex Harrison Presents Stories of Love, dir. John Badham, Arnold Laven, with Rex Harrison, Bill Bixby and Lloyd Bochner.

MARY ANNE, 1954 - Mary Anne (suom. Maija-Leena Reunanen, 1954)

EARLY STORIES, 1954

THE SCAPEGOAT, 1957 - Kaksoisolento (suom. Maija-Leena Reunanen, 1957) - Film 1958, prod. Du Maurier-Guinness, Metro-Goldwyn-Mayer, dir. Robert Hamer, script Gore Vidal, Robert Hamer, starring Bette Davis, Alec Guinness, Nicole Maurey, Irene Worth.

THE BREAKING POINT, 1959 - Linnut ja muita kertomuksia (suom. Liisa Hakola, 3. p. 1975) /

THE INFERNAL WORLD OF BRANWELL BRONTË, 1960

THE TREASURY OF DU MAURIER SHORT STORIES, 1960

CASTLE D'OR, 1962 (with Arthur Quiller-Couch)

THE GLASS BLOWERS, 1963

THE FLIGHT OF THE FALCON, 1965

VANISHING CORNWALL, 1967

THE HOUSE ON THE STRAND, 1969

NOT AFTER MIDNIGHT, 1971 (includes Don't Look Now) - Film: Don't Look Now, 1973, prod. Casey Productions, Eldorado Films, D.L.N. Ventures Partnership, dir. Nicolas Roeg, screenplay Allan Scott, Chris Bryant, starring Julie Christie, Donald Sutherland, Hilary Mason, Clelia Matania.

RULE BRITANNIA, 1972

GOLDEN LADS, 1975

THE BREAKTHROUGH, 1976 (television play)

THE WINDING STAIR: FRANCIS BACON, HIS RISE AND FALL, 1976

ECHOES FROM THE MACABRE, 1976

GROWING PAINS: THE SHAPING OF A WRITER, 1977 (US title: Myself When Young, 1977)

FOUR GREAT CORNISH NOVELS, 1978

THE RENDEZVOUS, AND OTHER STORIES, 1980

THE "REBECCA" NOTEBOOK, AND OTHER MEMORIES, 1981

CLASSICS OF THE MACABRE, 1987

MY COUSIN RACHEL, 1990 (play, ed. by Diana Morgan)

ENCHANTED CORNWALL, 1992

DAPHNE DU MAURIER: LETTERS FROM MENABILLY, 1994 (ed. by Oriel Malet)