Anthony Hopkins
DRAGON
PESSOA
Sir Anthony Hopkins
Sir Anthony Hopkins (born 1937) acted on stage and in film for over 30 years before receiving his first Academy Award, which he won for his portrayal of Dr. Hannibal Lecter in the 1991 film Silence of the Lambs. Since that time, Hopkins has become a true Hollywood superstar.
Over the course of his acting career, Hopkins has added extensive acting credits to his name. From his early career in the British theatre to his long list of movie parts, Hopkins has had his share of critical and box office failures and successes.
Humble Beginnings
Anthony Hopkins was born in the small working-class town of Port Talbot, Wales, on December 31, 1937, the only child of Richard Hopkins, a baker, and his wife Muriel. Hopkins had an emotionally tumultuous childhood during which time he often felt isolated and lonely. He admitted to People, that he was "hopeless, pathetic, an idiot. I thought I was nuts. I felt so weird." Although he studied piano and could draw well, Hopkins did not excel in the classroom at Cowbridge Grammar School.
An early turning point in Hopkins' life came when he met the famous actor Richard Burton, also a Port Talbot native. Hopkins, then 15, went to Burton's home to get his autograph. As he recalled, in an interview with US magazine, he thought, "I've got to get out of this place. I've got to become what he is. And I think something deep in my subconscious mind, or whatever it was, set the target. I thought, I'm going to be famous."
Despite his newfound commitment to making his way out of Port Talbot, Hopkins continued to struggle socially and academically. At age 17 he dropped out of school, and, at the urging of his father, he enrolled in a drama class held at a local YMCA. Well skilled at the piano, Hopkins then earned a scholarship to the nearby Cardiff College of Music and Drama, where he studied for two years. After two years of military service, Hopkins worked in the Manchester Library Theatre and the Nottingham Repertory Company. In 1961, he decided to pursue formal training as an actor. He received a scholarship to the Royal Academy of Dramatic Art, in London. He graduated in 1963.
Over the span of the next two years, he worked with the Phoenix Theatre in Leicester, the Liverpool Playhouse, and the Hornchurch Repertory Company. In 1965, he applied for membership in the National Theatre under the direction of Laurence Olivier. Hopkins was invited to join the company where he remained a member for seven years, until 1973. He began with understudy work and supporting roles, but soon moved into the role of leading man. Hopkins's stage work earned him critical acclaim, and he was compared to both Burton and Olivier.
Anthony Hopkins
Personal Troubles
In 1968, Hopkins began his film career, playing Richard in the movie The Lion in Winter. Over the next 30 years, Hopkins would make at least one movie almost every year, and some years as many as six. As his stage and film career began to evolve in the 1960s, Hopkins's personal life was falling more and more into turmoil. He quickly earned a reputation for his temper and his excessive drinking. He gained notoriety for walking out in the middle of a performance of Macbeth while he was a member of the National Theatre.
Hopkins married actress Petronella Barker, in 1967, but the marriage was brief. By the time Hopkins's only child, a daughter named Abigail, was 18 months old, the couple had split. Hopkins married again, in 1973, this time to Jennifer Lynton, a film production assistant.
In 1974, Hopkins and his wife moved to New York City where Hopkins earned critical acclaim for his portrayal of the psychiatrist in the Broadway production of Equus. He quickly gained fame for his temper in the United States, when he stopped a performance to berate latecomers. After Equus, Hopkins moved to Hollywood, hoping to find the fulfillment to his childhood dream of becoming truly famous. However, at this time, Hopkins was drinking heavily, even suffering blackouts. "I went around for years thinking I was some kind of fiery, Celtic soul," Hopkins told MSNBC's Joe Leydon. "But I wasn't—I was just drinking too much." After waking up in a Phoenix hotel room with no recollection of how he got there, Hopkins realized that his destructive lifestyle would eventually cost him his career and his wife. In 1975, Hopkins quit drinking.
Anthony Hopkins

Ten Years in Hollywood
At the same time, Hopkins was accepting acting jobs with little regard to the quality of the script. Hopkins admitted to People that he made little attempt to save his career, and in fact accepted less desirable roles in an attempt to reject his formal Shakespearean upbringing in the British theatre. He acted, he says, "out of perverseness and sheer rebellion toward the English Establishment. I was saying, 'That's all crap over there.' That was my cynical way of protesting too much." For ten years, from 1975 to 1985, Hopkins undertook over 25 movies made for either television or theatrical release. During this time, he earned an Emmy Award for his portrayal of Bruno Hauptmann, in the 1976 television movie The Lindbergh Kidnapping Case and for his portrayal of Hitler in the 1981 television movie The Bunker. While he received recognition for these two projects, the majority of the movies Hopkins made during this time period were less than memorable. These movies included The Girl from Petrovka, (1974), Audrey Rose, (1977), International Velvet, (1978), and A Change of Seasons, (1980). In 1985 Hopkins played Neil Gray in the much criticized television miniseries Hollywood Wives.
In 1985, at the urging of his wife, Hopkins reluctantly moved back to London, and he returned to the stage. A self-proclaimed workaholic, Hopkins attacked the British theatre, playing Shakespeare's Lear and Anthony on two different stages for a total of 200 performances over a 17-month period. In 1987, Hopkins became a Commander of the British Empire (CBE). In 1988, he received an honorary degree of Doctor of Letters, from the University of Wales. In 1993, he was knighted.
Silence of the Lambs
His desire for international critical acclaim and recognition came in 1991, when he earned an Academy Award for best actor in the box office hit Silence of the Lambs. Hopkins played Dr. Hannibal "The Cannibal" Lecter, a demonic, but brilliant serial killer known for eating his victims. Jodie Foster played a Federal Bureau of Investigations agent looking to Lecter for clues to catch another serial killer still at large. Hopkins's portrayal of Lecter was decidedly dark, menacing, and evil. Although Hopkins only appeared in 27 minutes of the movie, this role finally made him an actor of Hollywood superstar status.
After Silence of the Lambs, Hopkins did not slow his movie-making pace, acting in four films released in 1992, and five in 1993, plus a television movie in both 1992 and 1993. His body of work during these two years included Bram Stoker's Dracula (1992), Freejack (1992), Howards End (1992), Shadowlands (1993), and The Trial, (1993). His most noticed film was The Remains of the Day, (1993) for which he received an Academy Award nomination and a Golden Globe nomination for his portrayal of the reserved butler, Stevens. In 1994, Hopkins appeared in Legends of the Fall and The Road to Wellville.
In 1995, Hopkins played the part of United States president Richard M. Nixon in controversial director Oliver Stone's movie Nixon. The casting of Hopkins, a British actor, as Nixon was questioned by much of the entertainment media. In fact, Hopkins himself was skeptical. However, he took the part and, for his performance, earned both an Academy Award nomination and a Golden Globe nomination.
Anthony Hopkins
Fame and Fortune
Although not all Hopkins's movies, in the first half of the 1990s, were box office hits, Hopkins found himself working with high profile actors, such as Brad Pitt, Debra Winger, Emma Thompson, and Foster. The roles had become more challenging, and Hopkins earned respect in the acting community for his ability to play any part, from Hannibal the Cannibal to Richard Nixon. Hopkins also played the title role in Surviving Picasso, which was released in 1996.
After starring in The Edge, which was released in 1997 and co-starred Alec Baldwin, Hopkins found his next major role. He was cast as another United States president, John Quincy Adams, in director Steven Spielberg's historical drama Amistad. In the movie, former president Adams defended a group of Africans charged with murdering the crew of a slave ship. For his performance, Hopkins received an Academy Award nomination for best actor.
Hopkins turned 60 in 1997 and commanded over five million dollars per movie and he has not slowed his pace. He has two movies opening in 1998 with yet another in production. In 1998, Hopkins appeared in the remake of the classic The Mask of Zorro, co-starring Spanish actor Antonio Banderas. He also starred in 1998's Meet Joe Black. In Instinct (formerly called Ishmael), he played an anthropologist working in Africa who was convicted of murdering a group of white men who had killed a family of gorillas.
In some ways Hopkins has changed little since his time in Port Talbot. He was still a loner, choosing to take long road trips in his car, by himself, to relax. He has maintained his intense, driven personality that pushes him to continue to take on movie projects at an exceptional pace. However, he has also learned to not push too hard. Finally, after more than 30 years, he found what he knew he wanted at age 15: fame and fortune. He told Vanity Fair, "It can't get better than this. Years ago I wanted to be rich and famous, and it all happened to me…. They pay me a lot of money, more money than I ever dreamed of. It just cannot get better than this."
YOUR DICTIONARY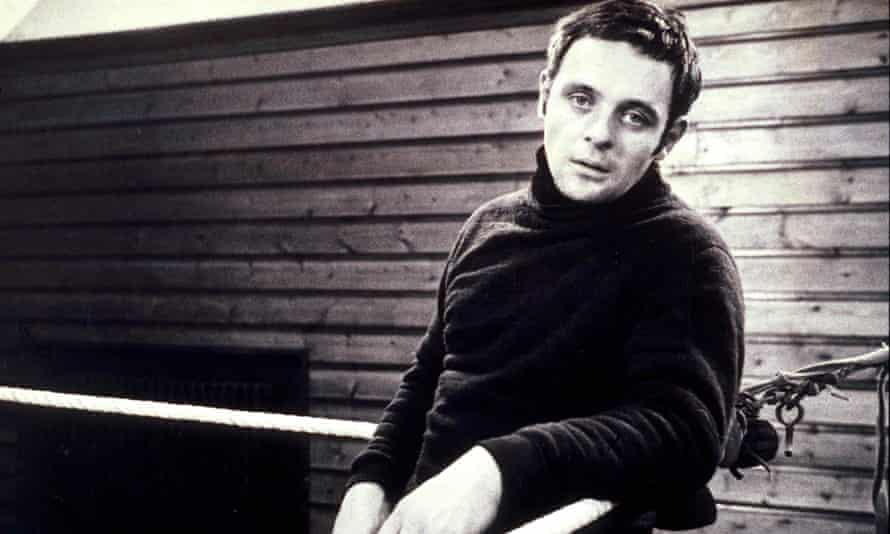 The Welsh actor Anthony Hopkins, once a stalwart member of the National Theatre, is the latest recruit to the ranks of film spy anti-heroes. He is shortly to emerge as Philip Calvert, Alistair MacLean's new character, described variously as "the first under-water spy" and "a slightly ribald Secret Service agent." The first film in this series which the publicity machine confidently predicts will "Out-Bond Bond" – called When Eight Bells Toll – is presently being filmed on the Island of Mull.
Tony Hopkins is 31 and the future seems bright indeed, considering that he was playing a walk-on part at the Old Vic only four years ago. But, although he admits he would be a fool not to be delighted at such a starring role, something in him is balking from enjoying the prospect of fame. He confesses to being in a very strange frame of mind rather than in a state of euphoria. He is, in fact, going through an old transition stage and is finding it difficult to adjust to the fact that although he still feels like an ordinary person just doing his job. Others have already dubbed him a star and consequently expect him to behave like one. For a start, he doesn't look like a star, unless as a boxer or a footballer, and not being able to be himself is unnerving him. Gloomily he tells of how he greeted an electrician on the film set the other day in a friendly fashion only to have the man turn on him and say "Don't patronise me boy."
Sitting brooding in a Scottish hotel lounge, knees drawn up to his chin, Hopkins said glumly that he had never made so much money nor been so neurotic. "The thing that annoys me is that everybody takes acting so damn seriously. Whereas all I take seriously is the actual work in hand, which is what I am paid to do. Once an actor gets all intense about it, I think he's had it. One needs to be able to stand outside oneself and have a good laugh about it. What I can't come to terms with is that with me, acting is just a job, and I can't see why it matters what colour pyjamas I wear or what I look for in a woman. I keep getting asked that kind of question and I despair because it is all so unimportant. What is important is not even my talent, but energy, production, and sheer hard work. Those are the things that go towards making a great actor."
Before he made his mark as Richard the Lionheart, in the film A Lion In Winter, Hopkins was very happy at the National Theatre. His admiration lies very much with the older school of actors, the ones who do not theorise a play out of existence. At the Old Vic he rose to roles like Andrey in The Three Sisters and was much feted for his rendering of Andrey, the country wench, in the all-male As You Like It.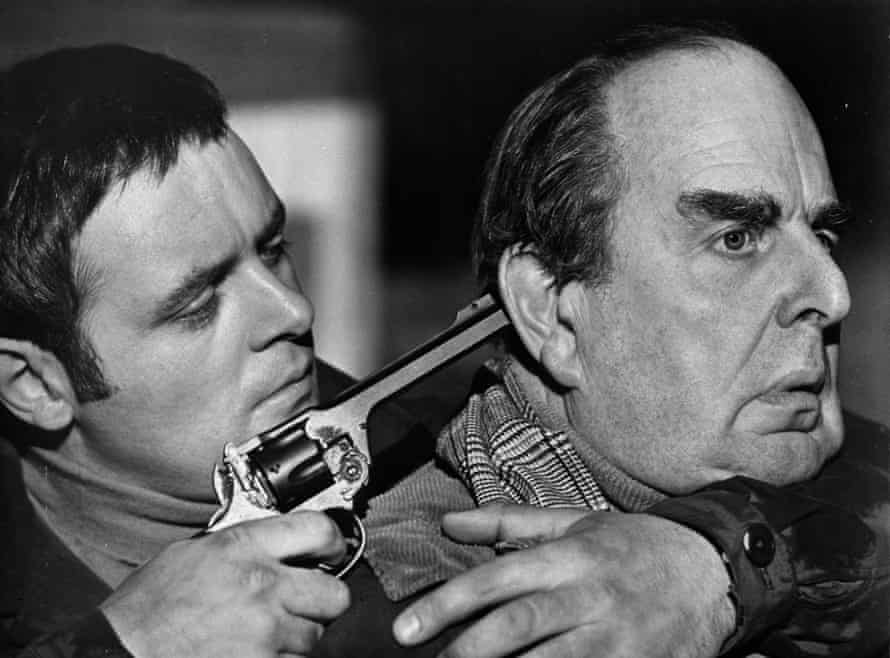 His great moment came when he stood in for Olivier in Dance of Death and got an overwhelming reception for his performances. He recalls "I suffered from chronic nausea for days and went through three sweat shirts in the first act, whereas Olivier would come off without a bead of sweat. It gave me a taste of my inadequacy and an even greater admiration for Olivier. It also gave me a taste of blood; I minded terribly when I stopped playing it. I had always wanted to play that kind of part so I wanted to show off and do it again and again.
He was sad to leave the National which he did partly to make a film but partly because he was running the risk, in staying, of standing in line with many other excellent actors.
"Tyrone Guthrie once said that any actor who has not played five of the great roles by 30 is only a working actor. I'm 31 and I haven't really played any of them but I still want to be a BIG actor and do them. I would like to play Hamlet, of course, but I would also like to play Claudius again, under different circumstances."
Last time he played Claudius, to Nicol Williamson's Hamlet in the Tony Richardson production he says it poisoned his mind – "Richardson and I did not see eye to eye. I nearly lost my mind when he said: 'And what piece of genius is Mr Hopkins going to bring to rehearsal today?' I hate all this 'did Hamlet sleep with Ophelia?' type of theatre. All that theorising by over-intellectual directors is dehydrating actors. All that playing cricket before rehearsal to get the correct reflexes – I think it stinks."
Tony Hopkins is a doer rather than a talker. A very workmanlike actor whose anger at the system smacks of the anger of last decade, yet it is rather refreshing. He protests a lot, but it isn't an empty protest. Why, though, one wants to ask, is he an actor at all?

"Acting is a third rate art. We are all over paid and over publicised. I hate actors but I love acting. I get ashamed with myself for doing it. I know I ought to be doing something else. If I was honest I'd say I like it because I'm vain, I'm comfortable, I like money and attention, but really I hate the whole set-up. I am taking the line of least resistance in doing films and it makes me feel like a con-man. When I think about how my parents slaved all their lives in a bakery for peanuts it just seems too easy. And that seems wrong somehow."
This is an edited version.
THE GUARDIAN
Blessed with prodigious acting gifts, and an Oscar to prove it, and cursed with a terrible liking for drink - now long overcome - he is one of the great British stars. Gaby Wood on a Welshman who conquered his weaknesses and the world
Saturday 5 December 1998
Anthony Hopkins says he's having the best time of his life now. "I don't feel that awful kind of angst - like I was on the wrong planet - that I felt for years. I feel now I belong somewhere. I belong in my own skin."
The man before me is welcoming, well-dressed, toned-down and modest. Though the rounded face, sharp blue eyes and lilting voice belong unmistakably to the famous creature of the screen, Hopkins is reservedly off-duty, more the preserver of mountains than the prolific grandee.
He is here to talk about The Mask Of Zorro, which opens in Britain next week. Hopkins plays the title role of a retired swashbuckler who returns to take on Antonio Banderas as his protègè. There is something curiously un-nostalgic about his performance. Zorro is a man whose past is everything, but Hopkins plays him with barely a visible shadow of his former self.
Hopkins is keen to stress that he has shaken off his youthful shadow. But he may have done more than that: jumbled up his energies and converted his shadow into a positive force. In which case the usual chronology no longer applies.
Before he was a star of the screen, and became the person Richard Attenborough describes as "unquestionably the greatest actor of his generation", he was a young turk of the stage, a stocky, turbulent recruit to the then-recently established National Theatre.
In 1967 he understudied his so-called mentor, Laurence Olivier, in Strindberg's The Dance of Death. Olivier was suddenly taken to hospital with appendicitis, and Hopkins went from sentry to star in a night. Olivier wrote in his memoir that this "new young actor... of exceptional promise...[had] walked away with the part of Edgar like a cat with a mouse between its teeth". Hopkins was bred for the mantle of Sir Laurence, but never felt he fitted in with the "posh actor" crowd or with "over-intellectual directors".
On stage, he was known to be "an energetic and intelligent actor," as one reviewer put it. He had, he knew, "a colossal energy", and described himself as "working like a demon... tearing up the stage"; "like a titan". Even when Hopkins was performing Chekhov, one critic remarked on his "enraged convulsions". "I used to be very temperamental," Hopkins says of that time. "Very difficult. I've always been turbulent, I've never been one of those peaceful characters. But I didn't like that role."
Wedded to a Welsh anger and melancholy was the drink he consumed so savagely. He had in abundance one of the qualities Kenneth Tynan said was required of a great actor - the ability to communicate a sense of danger - and the danger was real. Hopkins was, by his own admission, "not playing with a full deck of cards".
He kept interrupting his theatre work to act in films, and finally, in early 1973, he walked out of a production of Macbeth. Though he has worked at the National since, it is this event that marks the end of that drama - the story of Hopkins the firebrand, Hopkins the drunk, Hopkins who walked.
"I don't want to dictate what you write or anything," Hopkins says softly, and asks me not to make too much of "that subject of booze". He stopped drinking abruptly, on December 29, 1975, when he found himself in Arizona with no idea how he'd arrived. He joined Alcoholics Anonymous, and has attended meetings ever since. "It's just such a long time ago and so boring," he continues. "Someone found out about it one day, and it keeps coming up, like a bad penny." I tell him it's not the alcohol itself I'm interested in, but the instincts and temperament wrapped up in the habit.
He has described himself variously as a "chaotic", "anarchic", "angry", "inconsistent" person, and in his drinking days, in his stage performances, all that was visible on the surface. What we should be interested in now is the alcohol's afterlife - where does the chaos go when the habit is kicked?
"Ah!" he sighs, almost sourly, "the addiction to chaos! The addiction to drama! Never. I never want to go back to that life again. But then I wouldn't have missed it. I wouldn't have missed the crazy years, I wouldn't have missed any of it. It's all part and parcel of growing up, I guess." Now he claims to be "not too fond of chaos", and his anxiety to rein it in seems to be part of an ongoing struggle.
On screen, Hopkins specialises in simmering restraint. Even in characters separated by class - Henry Wilcox in Howard's End and Stevens in The Remains Of The Day - he has perfected a polite holding back of emotion, made up of syncopated pauses and gentlemanly mutterings. Despite his Welsh nationality, for many he has come to epitomise the stiff upper crust of Englishness.
This, of course, only describes the surface. James Ivory, in whose films Hopkins might be seen to have coined that type, is outraged at the "disservice" this suggestion does. "How could that possibly be?" he exclaims. "He has tremendous range. I mean, he's equally happy playing a mad cannibal psychotic and the intensely repressed Stevens the butler."
Hopkins may still be best known for his Oscar-winning performance as Hannibal Lecter in The Silence Of The Lambs. His high, rich voice, flickering tongue, Zen posture and unblinking gaze of impenetrable pleasure have made him a horror hero of historic proportions. As Stevens, he contorted his physical presence into a different shape entirely, almost as if he were wearing the role. He carried himself like a zombie, with a jutting, bovine chin and living-dead arms. He was unbreakably stiff and outlandishly subservient.
But these roles should not be seen as directly opposed to Hopkins's tempestuous performances on the stage. Lecter and Stevens are not lacking in feeling, they are covering it up. The turbulence is there beneath the surface. If on stage Hopkins was all projection, on film he is introjection - but the energy remains the same. Stevens and Lecter are emotion and violence encased in calm, and the tension is what gives the performances their power.
"Tony is permanently in the grip of feelings he cannot control," says David Hare, who worked with Hopkins twice in his later stint at the National. Hare's own play, Pravda, provided Hopkins with one of his favourite characters, the newspaper tycoon Lambert Le Roux, in 1985. And five days after Pravda had ended its 18-month run, Hare directed him in King Lear. This is how he describes Hopkins on days of rehearsal: "He would have got up, played his Steinway for two hours, walked to work from Chelsea, and he would still be the first at rehearsal, having already drunk five cups of coffee, at 9:30 in the morning. He has a fanatical amount of energy he doesn't know what to do with - which is the alcohol problem, so to speak".
So to speak, because by then Hopkins was a decade away from his literal alcohol problem. But intemperance can take many forms, and restlessness is an essential part of his talent, his allegiances, his tireless humour.
He lives in LA now, in a house on a hill, and when he has time to spare he burns off his energy by getting in his car and driving thousands of miles. He says that when he's working he enjoys the drive to the location more than the filming itself. He tells me he likes LA because "there's no past there. The desert burns off your memories."
The people who surround Hopkins day to day will tell you that his memories are one thing that can't be burned off. His capacity for remembering things - detailed things, like times and dates - is phenomenal. He himself says he's "astonished" at his memory, and keeps it supple by learning things by heart - poetry, and Shakespeare. In Steven Spielberg's Amistad he astounded crew and audiences alike with his memorisation of a seven-page courtroom speech, delivering it all in one go. Spielberg was so overawed he couldn't bring himself to call him Tony, and insisted on addressing him as Sir Anthony throughout the shoot.
For an actor, such a memory is a blessing. For a man whose past resists escape, it must at times turn into a handicap. When I ask him about his years at the National he says, "best forgotten, that". Or, "You know, I don't remember much about it". He shuffles his foot in and out of his shoe, turning it over and over on the carpet. He says, almost to himself, "God, it's so long ago", and then he admits. "Well, I do, actually. I remember everything very clearly, but... um... asking these questions is like being on... psychotherapy ...". He takes a deep breath.
Philip Anthony Hopkins was born on New Year's Eve, 1937, in Margam, South Wales. His father and grandfather were bakers, and when the Hopkinses moved to nearby Port Talbot they lived above the shop. Tony was an only child, and ill at ease at school. He was slow academically, and would sit in a corner playing the morose pieces he had learned on the piano. He "used to draw a lot," he says, "and paint". He developed a party trick of drinking indian ink. To distinguish him from the other boys with the same surname, he was called "Mad Hopkins", and even his mother Muriel reportedly said years later, on seeing The Silence Of The Lambs, "I always knew you were strange".
But the boy fell asleep watching the red lights from the cinema opposite flash across his bedroom ceiling. In the school holidays he saw two shows a week at the Regent, and more at the Picture Dome, The Grand, The Majestic. He saw "all kinds of strange, obscure little films which have never seen the light of day since. Jack Palance, Joel Macrea, old Warner brothers movies." He loved Bogart, and Cagney.
Richard Burton's sister lived nearby, and when the young Hopkins went to ask for Burton's autograph, he was inspired by seeing him whizz off in a sports car. Hopkins describes Burton as "a very impressive figure. In a way he was a magical personality because he was the local kid from Tai Bach. I remember thinking, I've got to get out of this place. I've got to get out of this inner sanctum of my own inadequacy and do something with my life."
Hopkins, like Burton, joined the local YMCA players ("for goodness' sake get out of the house and make some friends!" had been his father's exhortation), and it was here that he had his first glimpse of what he could do. He went on to Cardiff College of Drama, then to National service. Hopkins's authorised biographer, Quentin Falk, alleges that Hopkins tried to get out of National service by pretending to be deaf. Hopkins denies this, but even as legend, it shows a young actor before his prime. After two years as a bombardier, he went to RADA, then rep, and in 1965 the National Theatre.
He was praised for his Andrei in The Three Sisters, but even more legendary was his Audrey in Clifford Williams's all-male As You Like It. With long flaxen hair and a silver-tasseled flapper dress, he was "a bucolic Brunnhilde - lumpy, bass-voiced, "grown out of embarrassment", and, according to the Times, "the funniest of all the performances".
Half-way through rehearsals, Hopkins had worried that he wouldn't be able to "make the sexual leap" to play Audrey. That was the time of his first marriage, to the actress Petronella Barker. It was a wrong-footed, short-lived relationship, and a subject Hopkins always wants to "stay off". They had a daughter, Abigail, whom he didn't see for many years. Hopkins and Abigail are now reunited, and, under the name Abigail Harrison, she has had small roles in Shadowlands and The Remains of the Day. Also in 1967 he was given his first break in feature films. He was to play the homosexual Richard Lionheart in The Lion In Winter, alongside Peter O'Toole and Katharine Hepburn.
In this first feature he was full of angst. He could keep still for the camera, but only just - he was burning and seething all over the surface. Ten years later, in Magic, he played a murderous ventriloquist as a nervous seventies boy, an updated Peter Lorre; forlorn and lost. By 1980 he had become the picture of dignity as Frederick Treves, the doctor who rescues The Elephant Man in David Lynch's elegant film. Then came The Bounty, inviting comparisons with Charles Laughton.
He returned to the English stage with Pravda, and in a dazzling feat of renewed energy, played title roles in King Lear and in Antony and Cleopatra in the same season. Hopkins is eloquent about refining his subdued screen skills. "It always feels just right as long as you don't push it," he says. "Sometimes you need to have an explosion, but it has to be measured. I think once you start overacting on film - and I've done my share - it shows badly. Most of the time I think you have to let the audience do the work for you.
"I remember sitting on the pier with Emma Thompson," he says of The Remains Of The Day, "when we were doing the scene at the seaside when I had gone to meet her. It was one of those yellow autumnal afternoons, a yellow sky with a black cloud underneath, and I thought, I don't have to do anything."
Richard Attenborough, one of the first film directors Hopkins ever worked with, describes his effortless transition from stage to screen thus: "The theatre was his nursery. And he therefore became obsessed with the sound of words. The magical thing he understands is that the cinema is a totally, totally different medium. And that silence is nine times out of 10 infinitely more effective than words".
Hopkins has made 22 films in the past decade. Of these, he is most accomplished in Nixon, most hammy in Bram Stoker's Dracula, and most true to his Welsh past in August, which he directed in 1995, and for which he wrote the music. soon after our first meeting, he will be on his way to Rome to begin shooting on Titus Andronicus, Julie taymor's film of Shakespeare's violent, rarely performed tragedy.
"I've always wanted to be in movies," Hopkins reflects. "I never felt at ease in a theatre company. I think it smacks too much of school. But that's something inside me. I just reacted as a bad schoolboy brat. In film, you have no illusions when you go on set. For me working on film now is just about being relaxed, knowing the script so well that you don't have to think about it. Then you rehearse in front of the crew, and there's a wonderful... smell about it, a wonderful feeling of... in its own way, its own creativity. A charge in the air - a charge sounds too intense, but some sense of, I don't know, atmosphere."
"SILENZIO!" The cameraman shouts, and the Italians do their best to keep quiet. It's a warm, fairly calm day on the set of Titus Andronicus. Behind richly dressed senators and guards in Roman helmets rises the impossibly grand facade of a white marble building commissioned by Mussolini. Off-camera, all the ancient Romans are wearing sunglasses. People are chatting and gossiping, hanging around, passing through. It's a friendly set, and an awesome pleasure to see Hopkins in his element.
Julie Taymor is up on the platform showing people where she wants them to stand. The cameras are ready. Off to one side, Hopkins is having a deep-red leather cape fitted over his metal-coated shoulders. His white hair is cropped to nearly the same length as his speckled stubble. He walks over to where the action is about to begin. "Rome," he announces, "I have been thy soldier 40 years, and led my country's strength successfully."
While they re-load the cameras, he roams about, making cheerful quips and issuing bear hugs. He greets me warmly and introduces me to his colleagues. He behaves less like star than a host - how is my hotel, have I had lunch, how long am I here? Then the crew are ready to go again.
Hopkins's wife Jenni is over for the weekend. They met in 1969, when she was working as a production secretary and was sent to pick him up at the airport. He was in a sorry state then, but they've lived through better times. Now Jenni sorts out his work arrangements in London, and generally plays the part of the grounded other half ("My wife is so sane she's mad," Hopkins says). Though they are still married, they have lived apart since 1996, she in London, he in California.
At the start of that year, there was a brief blast of tabloid attention when Hopkins announced in an Alcoholics Anonymous meeting that he was having an affair with an actress named Joyce Ingalls. It was, he was quickly quoted as saying, "a moment of madness", and the reunited couple established their transatlantic living-pattern for the future.
"My wife and I have a great relationship," he tells me. "An easy-going relationship. And we've come to terms with it. She lets me do my thing. This is my life, I live in hotels, and when I have time off now I get in my car and drive thousands of miles. It's a solitary life, but I love it."
Jenni has a sprightly, refined grace. She has a small, smooth, freckly face, twinkling blue eyes and reddish hair. She greets me on her way to lunch, every bit as warm as him. Over lunch, I find myself chatting to a very jovial man. "You can ask me," he says brightly, "I know everything about him." "OK," I say, and a look of abject horror passes over his face. "Nah, not really. You'll have to ask him yourself." This is Terry, Hopkins's stand-in. Does that mean he's his double? "Nah, if he needs to do a stunt or something, they'll get a stunt double."
He's not a body double and he's not an understudy. Terry's job is to be there so shots can be set up and lights can be arranged without Hopkins being present. "We've got the same build, the same blue eyes, and... well, I don't want to put myself down too much, but I'm not as clever as him. We've got the same sense of humour."
Hopkins, evidently, is inspiringly silly when relaxing. "Anyone who knows him well will tell you the same thing. He's got incredible talent, and he's amazing, he can switch it on and off." Terry has had cameos in a few films: as the gamekeeper in August, the registrar in Shadowlands, and the DJ in Gary Oldman's Nil By Mouth. Hopkins calls Terry "the Hitchcock of the Hopkins clan" because of his split-second appearances.
Hopkins once said that his way of relaxing was to watch Carry On films, and as soon as this pair are together the vaudeville begins. Egged on by Terry, Hopkins impersonates Burt Lancaster, then Gary Cooper, Jack Lemmon and Tony Curtis. He runs through the classics, replaying segments line by line. I ask him if he could impersonate himself. "Oh, yes," he says without a pause. "There's a man on the set who does a very good impersonation of me. Gary Oldman does a wonderful one. He goes like this" - Hopkins stands up - "he says 'Come on, let's get on with it!'" He is growling and prowling around like an animal in a boxing ring. "'Come on, lights going! Come on, We're not puppets!'" He snarls, snapping his fingers, then breaks into laughter. "Like I'm always looking for a fight. But I've always had that energy."
When the day is over Hopkins sits down with me again. He is more blatantly irreverent than before about the crowd at the National Theatre ("I detested all of them. Ken Tynan and all those ghastly people, sitting round smoking their cigarettes between their middle fingers"), and more nostalgic about Port Talbot.
As he describes his father and grandfather a self-portrait emerges, full of impatient energy and demotic defiance. Asked what it means for him to be Welsh, he replies that he is not tied to anything. He can't speak Welsh, and often inverts the stereotype by insisting he can't play rugby or sing. He has no opinions on the question of devolution. He mentions only meekly the fact that he "put some money on a mountain", and his donation of a million pounds to Snowdonia, far from being some territorial gesture, sounds like something Mr and Mrs H decided over tea: "I said to my wife, 'how about putting up some of the money?' She said, 'Yeah - you think so?' And I said, 'well, we're quite well off, and I'd like to do that'."
But in talking about his father, his attachment to Wales and to the rebel spirit he inherited becomes very clear. "My father was a man of colossal energy. So was his father. Violent energy. I think that's what killed my father, he was so wound up. His eyes used to change colour. "My grandfather was dynamic, self-educated, brought up in terrible poverty. His father drank away everything. So my grandfather had to make some money and ended up in a German bakery in Piccadilly. And he became very active in the trade union movement. They were firebrand socialists and my grandfather used to demonstrate in Trafalgar Square. But he mellowed over the years. He was a self-educated man, a vegetarian - a crank. An extraordinary man. I used to shadow-box with him," Hopkins laughs, "and he paralysed my arm. "I don't know, I feel that their memories are embedded in me. I wonder sometimes if we inherit the memories of our parents... Fanciful stuff, but I've got some photographic books of Port Talbot, taken earlier this century. And some aerial photographs of my birthplace taken by the Luftwaffe about 1940. And you can see the whole of Port Talbot laid out, and trace the streets.
"And I look at those aerial shots, and I think somewhere there, my grandfather was baking and my father was somewhere on the bread van, a young man. And I go back, I conjure images of what it would be like to start my life all over again." "My mother, she's 85, she says, 'God you're just like your father'. Well, I think, that's not a bad person to be." Hopkins smiles.
Something else comes to him. "There's one story that sums up my father. I was doing a production of A Woman Killed With Kindness at the National, with Joan Plowright and Derek Jacobi - posh actors -and Laurence Olivier came to see us on the first night. Oh, that's right, we were sitting in the pub before, my father had just come up from Wales with my mother. He said, 'What's this like - Shakespeare, is this?' "I said, 'No, it's not Shakespeare, it's a Jacobean play.' He said, 'Ah yeh, any shooting in it?' My mother said, 'Oh Dick'. He said, 'Well, it's all very well 'angin around here doing Shakespeare and all these classical things, you want to make money.'
"So anyway, they came to see the play and afterwards they were in the dressing room, and Laurence Olivier came in. And I said, 'Oh, Sir Laurence this is my father, this is my mother'. He said 'What did you think of the play,' and my father said, 'Ooh, I'd give it a fortnight'. And he said, 'how old are you?' Olivier said, 'I was born in 1907'. He said, 'Same age as me. Both going down the bloody hill now, aren't we?'
"Olivier smiled and he said the next day: 'What a charming man your father is'. My mother said 'Dick, how could you say that?' He said, 'Well he breathes oxygen, just like me'. I always remember that - he breathes oxygen, just like me."
The next day on the set, Jessica Lange is there, in full gold-armoured regalia. Alan Cumming is wearing a laurel wreath and giving a piggyback to Jonathan Rhys Meyers. I bump into Hopkins straight away. "Have you had lunch?" he asks, and invites me into his trailer. "I don't eat much," he says, offering me his meal, unwrapping little tin parcels of rice and chicken.
The trailer he's in belongs to some famous Italian actress, he doesn't know who. It's nicely decked out, with architectural engravings on the walls and blue pastel curtains. He sits at the little table, shuffling some papers about. He says gently, "You were asking Terry about my scripts?" I had been curious to know whether Hopkins still drew pictures in his scripts. "Oh yeh," Terry had said, "wonderful." And Arthur, Hopkins's dresser, who has been with him on a number of films, had described with awe the actor's method for learning his lines.
"He reads them once and draws an X. He reads them twice and makes a star out of the X. He reads them again and draws a circle around the star. And all over his scripts there are hundreds of these tiny circles and stars. He reads each line over 300 times." Hopkins passes me a clump of pages. "Here they are," he says. "I just doodle in them, you see. On the backs of pages, on the loose pages. They help me to remember the lines."
The drawings are beautiful, somewhere between stream-of-consciousness sketches and classical paintings, all in multi-coloured felt tip. There are minimalist landscapes, Picasso-esque faces with droplets of tears, an eyelashed Neptune surging from the sea, a hilltop tomb in purple and orange. Some of them look like pastels by Odilon Redon.
In fountain pen, Hopkins has written little literary notes to himself: "Cantos", "Metamorphosis - Ovid." Lines of dialogue are highlighted in green and yellow and blue - orange and red for the violent scenes. There are the stars Arthur mentioned and numbers in circles for the amount of times a line has been read - 120, 250, 300.
Here is the private world of the man who is an addict of detail and loves broad swathes of colour; a dispenser of rigid control with a propensity for chaos. His is an intricate, rigorous method, and it looks quite brilliantly like madness.
Anthony Hopkins
ANTHONY HOPKINS, UNCUT AND UNEDITED
Amy Biancolli, New York Times News ServiceCHICAGO TRIBUNEJANUARY 7, 1999
Sir Anthony Hopkins looks like an old bull. His neck is thick. His wrists are huge. His buzzed pate boasts less hair than it used to, and his face is ridged with lines, but the cramped Manhattan hotel room swells with his presence.
"I look in the mirror in the morning and think, `Well, this is the way it is,' " he says, with a voice that rolls like distant thunder. "I just think, `My hair's falling out, I'm getting older.' And I think, `Well, don't worry about it. Just get on with it. That's life.' None of it's of any consequence at all -- it's all an illusion, anyway."
The occasion is a publicity junket for "Meet Joe Black," and while Brad Pitt isn't here, Hopkins is. Hopkins always is. He's a trouper when it comes to publicity -- gracious, unpretentious, articulate -- and movie writers wind up seeing a lot of him.
So imagine the collective chagrin when Hopkins strolls in, sits down and calmly spills out one earthquaking personal revelation after another. Soft-spoken, self-effacing, brutally honest and utterly charming, he single-handedly trashes everyone's best-laid plans to Not Write About Him. How could we Not Write About Him. No choice, really. Sir Tony talks.
On being alone: "That's my life: I live in hotels, and I travel around the world. That's my passion, if you can call it a passion. I love it. I love the alone quality of it all. I don't need anything, I don't need anyone. I get in my car sometimes and drive a thousand miles across America. That's really what it's about: just being alive. . . . I don't have any attachments to people. I don't know, I think this came some time ago -- maybe I'm not very trusting, I guess -- but I don't have friends, really."
(FYI: He's married. When he's traveling, he says, he phones his wife about four times a week.)
On his childhood in South Wales: "I was a lonely kid. . . . Maybe I was dyslexic. I was just different, really. I was artistic and I used to draw, played piano. My father used to worry about me -- he'd say to my mother, `There's something wrong with this boy. He ought to get out; he doesn't have any friends, he ought to go out and play with other kids.' . . . School was a complete anathema to me. I didn't know what on earth anyone was talking about."
On why he became an actor: "I hated authority, hated any establishment, couldn't bear to be told what to do -- so I became an actor. And I thought maybe that would be a way out for me. And I had no idea why I was going to become an actor, except I wanted to be rich and famous. I was a very good mimic, and I think that was the bridge to a kind of normal living for me, because I could mimic all the schoolteachers, authority figures. I could be cruel to them at their expense."
On his fear of being found out: "I don't think I've ever had that sense that I'm an actor. . . . I look over my shoulders and I'm thinking, `What I'm doing, it feels so easy to me. Maybe I should send the check back. Maybe they shouldn't give me this part. Maybe they're going to find out that I don't know what I'm doing. Maybe they're going to pull the wool away from their eyes and see that I'm a complete fake.' "
On people who take acting way too seriously: "Some guys live and sleep and eat the work they do. I don't. . . . It's the Robert Mitchum school of acting: Show up, learn your lines, make sure the check's on the way to the agent. I know it sounds cynical and jaded, but it's not. It's the only way I can function. I mean, what I do is not a cure for cancer, is it? It's not a cure for a disease. It's not that important. . . . People want to grab me and say, `Don't you take your work seriously?' And I want to say, `No!' "
On death: "We're all suffering from a terminal condition called life, and we're all going to die one day. So I think about it sometimes. I'm 60 now. I'm not preoccupied with it. I'm mellowed. I have no illusions. That's the great thing -- having your illusions stripped away. And I have no expectations. I have very few needs. One day it'll all be over, and that'll be the end. So I may as well enjoy it while it's here now."
On his drinking years: "I used to walk around this city stoned, bombed out of my brains for months on end, and alone -- and you know, confused, bewildered, like all drunks. And here I am sitting here in the same city, 23 years later, and everything seems to be different. . . . I can see everything through a new pair of glasses, you know. Everything's clear. Life is good, life is tough, life is all those things -- but you know, I don't have any power over it. And it's a nice feeling to be free of all that nightmare."
On his live-and-let-live philosophy: "If I have any philosophy, it's `Mind my own business.' It's nothing to do with me what anyone else does. I learned that through the last 20-odd years. I was drowning in booze, I was drinking myself slowly into the gutter. And gradually I figured out over the years that I had a choice: to live or die."
And, last but not least, on his unexpected status as a sex symbol: "Sometimes a young woman comes up and asks for an autograph and goes goo-goo to me, and I say" -- at this point he looks over first one shoulder, then the other -- " `It must be Brad Pitt!' "
Flustered, Hopkins grabs his head, leans on the table and laughs. "I've gone all pink now!" he yells.
He has. Ear to ear, from his chin to his bald spot, Hannibal Lecter is blushing.
CHICAGO TRIBUNE
TONY THE TIGER
by Zoe Heller, published by Harper's Bazaar (June 1999)
LIKE an intruder in a Western, whose approach is presaged by the rearing of spooked horses, Anthony Hopkins arrives in the Warner Brothers commissary heralded by a sudden whispery fluster among the waiters: "That's Surrtony ..." He is shorter than expected--a chunky, compact man with a sticking-out chest, like a little bull. His eyes are a ludicrous blue, the color of swimming pools. As the door to our private dining suite is closed, he sits down, casting a slightly weary gare about the room. "You have an English accent," he observes.
I allow that this is the case.
"As soon as I heard that accent, he says, "I thought, Oh, no, because I don't like the British press." He goes on to describe an interview he did a couple of years ago with a young woman from a British tabloid. She had alluded snidely to his having abandoned Britain for the Hollywood high life. "I looked at her," he recalls, "and I said, 'If you're going to start the interview like this, forget it. What's the matter with you? What's the matter with you damn people? I'm not going to sit here with your weak, whining negativity. I'm bored of you people. You want it dirty and raining, with dog shit on the pavement? Go back then! Go back to England. Fuck off.'" He watches me carefully to gauge my reaction to this story. (I smile brightly.) Then, quite unexpectedly, he laughs, a sharp, articulated bark: "Ha! Ha!"
I have come to see Hopkins on the final day of shooting for Instinct, a movie about a primatologist--played by Hopkins--who forsakes life among his fellow men to live with gorillas in the wild. My inquiries about Hopkins' relations with his costar, Cuba Gooding Jr., are met with polite dismissiveness. There will be no heartwarming anecdotes about life on the set from him. "I never become fond of people," Hopkins says, shrugging a little impatiently. "I work with them, and we say goodbye." The Venerable British Actor With a Distinguished Theatrical Past is a time-honored figure in Hollywood. And Hopkins is in many ways, a natural successor to such men as Laurence Olivier and Richard Burton. He brings the right sonorous voice, the appropriate quirky diction, the mandatory aura of "class"--he even has the knighthood, damn it. Yet something in him delights in disappointing the expectations created by the high-toned Brits who have preceded him. And then there is his general irreverence about the business of acting. Repeatedly interviewers have come to sit at his knee, anticipating wise insights into the "craft," only to be rebuffed with crude declarations of philistinism. He chooses parts "for the money," he tells them. He doesn't "give a shit about culture." He has no interest in "Shakespeare and all that British nonsense." He only got into acting in order to "become famous."
There is, of course, something a little mannered about these avowals, something less suggestive of candid confession than of considered provocation. Hopkins, who is far too experienced and intelligent an actor to have no interest in Shakespeare (he will star in Julie Taymor's forthcoming film adaptation of Titus Andronicus), is not really giving the finger to the Bard but to the slightly precious world of British theater and those within it who regard him as having sold out. For many years before he went to Hollywood, Hopkins was associated with Britain's National Theatre, and his unhappy memories of that time fuel much of his current vituperation. He was a successful stage actor--his lead performances in King Lear, Antony & Cleopatra and David Hare's Pravda are still remembered--but he was a severely depressed man. Depressed and angry and alcoholic. His life in the theater exacerbated his insecurities about his own talent, he says: "My anxiety was about the business of rehearsing and rehearsing and then going out onstage and being appalling in the part, because then I would have to keep on doing it, night after night." He also disliked the communal aspect of being part of a company. "You have to be a team player, and I'm not good at that. I remember, we used to have to do voice training and you'd be humiliated and corrected in front of everyone else in the company. Something in me really rebelled against that, some childhood rage was roused in me. I couldn't bear it."
Then, in 1974, Hopkins came to the United States in the National Theatre's Broadway production of Equus and fell in love with the country. "I'd always wanted to live here," he says. "It was an escape route, really. I'd been a movie fan for years. That's what I wanted to do." He stayed in the U.S. for 10 years--joined AA and gave up drinking-- and then went back briefly to England before returning for good in 1987. He lives in Los Angeles most of the year now, in the flowery suburb of Pacific Palisades, and regards it as his true home. "I love it over here," he says. "It's a question of temperament really; I feel like I fit into the rhythm. The way I live my life now is a representation of something I dreamed up for myself years ago. I had glimpses of being in some special beautiful land. I know America has nightmares, but I still believe in the mythology of America."
With a late-blooming career in movies and more than two decades of teetotalism under his belt, Hopkins is, he claims, an infinitely happier man at 61 than he was at 31--calmer, saner, more at ease with his talent as an actor. "I have learned that I don't have to 'act,'" he says. "I just have to learn the lines and speak them and that will be enough. Just be and let the words come out." (Several of his recent costars, including Brad Pitt and Antonio Banderas, have spoken reverently of how much they have learned from observing this calm, no-method method.) As for the rages and despairs that once plagued him, they have waned, he says. Instinct director Jon Turteltaub says he was initially rather awestruck about working with a knight--"You expect a sir to turn up on set with a sword and a feather in his hat"--but was pleasantly surprised to discover that his star was really just "a regular guy." "I was impressed," Turteltaub says, "by how modest and humble he was." When I mention to Hopkins something Emma Thompson once said about his having a "volcanic" temper, he swats the comment away with a moue of disdain. "Bullshit," he says. It's too exhausting to have a bad temper. I don't get upset anymore. I don't get overexcited about things. There's no point in investing too much blood, sweat and tears or emotion in anything. Why bother?" The last time he got really mad, he tells me, was in November 1984. "I had a big punch-up with a director. He was a big bully and I tore him to pieces. I don't like bullies." But such outbursts are no longer his style, he says: "Life's not about fighting any more. I've given all that up. If a director is misbehaving, I might just go to the producer and say, 'Could you convey to him that if he doesn't stop this nonsense, I shall be going back to my hotel room?'" He smiles. "That'll do it."
Still, it would be rash to relegate Hopkins to the pasture of pastel-toned, benevolent old age just yet. (Since interviewing him, there have been reports of Hopkins on the Titus Andronicus set in Rome swearing to give up his career altogether. "Acting is bad for the mental health," he told the British press. "I can't take it anymore:... I have wasted my life.") He may be slower to ignite than he once was, but the potential for explosions is still there. And any temptation to write him off as a cantankerous legend who has finally "mellowed" is immediately squashed by the tone of flinty misanthropy that pervades his conversation. His public manner is cordial, even hearty, but there is something forced about the goodwill. His is the hail-fellow, strained-grin jollity that long-suffering fathers affect at family gatherings, dutifully miming interest and delight until the happy moment when they're allowed to slope back to their studies or garages. It's not an accident that the typical Hopkins film has him playing a loner or recluse. Whether as Dr. Hannibal Lecter in The Silence of the Lambs (a part he is widely expected to reprise in the projected sequel), the wisened old patriarch in Legends of the Fall, the crazed ventriloquist in Magic or the costive butler in The Remains of The Day, what Hopkins communicates most effectively onscreen is a profound but essentially voluntary solitude.
Offscreen he lives the life of a movie-star hermit. "I like to be alone," he says. "I don't get lonely. The emotions are treacherous. They trap you, they're unpredictabie. My emotions are very low-maintenance. All my family are very self-sufficient people. My mother, my father--I'm like that, too. I'm not saying this to make myself sound fascinating. It's just the way it is." But surely he has friends? No, he does not cultivate friendships, he says. "I don't have any dislike for people," he adds. "I like people in a general way ... in a very general way. But I don't want to have friends." He engages in minimal social activity. If absolutely necessary he will dine out, at a restaurant: "If you meet someone in a restaurant you can eat very fast, pay and then go," But dinners in people's houses are strictly verboten. "I don't like the whole ritual, the group thing. You go to someone's house and you stand on the doorstep filled with dread and they come to the door and it's 'Helllleeehh, daaaarling!'" He bristles at his own imitation. "I stand there and I think, Oh God, oh fucking hell. I just cannot do it. I thought I might improve with old age and become much more affable and friendly, but I haven't. I've become more ... more unable to be bothered."
Hopkins is still married to Jennifer, his wife of 26 years, but she lives in England and they spend most of the year apart. "She's given up," he says. "She just says, 'Well, that's the way you are.'" He pauses, thinking. "I sometimes wonder if things will change," he says. "I don't know." Over the years, there have been reports of various extramarital romances. In 1993, Hopkins had a brief affair with a woman he met at AA, and while in Rome last year he was seen in the company of a blonde woman whom he later admitted was his "new lady." But for the most part, he seems less interested in playing the field than in keeping the field entirely empty. Of his Rome companion, he breezily told reporters, "I don't think I will be with [her] for a long period of time. [I] prefer my own company.
And how, then, does he fill his hours? How does he occupy himself all alone at night in his Palisades aerie? "Well, this evening," he tells me, "if I get home early enough, I'll sit out on my sundeck. I'll look at the flowers. Then I read and I watch a bit of television. I get to bed about 10:00. In the morning, I feed the birds." Lately, he adds, he has been trying to improve his memory by learning chunks of poetry by heart. His preference--not altogether surprisingly--is for the gloomy moderns. He starts to recite the W.H. Auden poem "As I Walked Out One Evening," a ballad that begins happily with a lover declaring that his love will last until "salmon sing in the street," and then takes an abrupt turn for the miserable. He stops suddenly. "Do you know 'Prufrock?'" he asks. "I love Eliot. And do you know what my favorite lines are? 'I have seen the moment of my greatness flicker,/and have seen the eternal Footman hold my coat, and snicker,/And in short I was afraid.'" He claps his hands. "That's it! That's it! That sums it all up: the desolation, the utter futility of it all. These poems, they warm me.
We finish lunch, and Hopkins goes off to makeup to prepare for his final afternoon of shooting. Later, when I pop in to his trailer to say goodbye, he has wildman hair extensions and looks like a slightly frazzled Santa Claus. Some rather gruesome elevator music is coming from the CD player. A stomach-crunching device and a pair of dumbbells sit in the corner. (Hopkins is very proud of having a "strong build.") We chat for a bit about boxing--"the only sport I care about," he says and what it was like to meet the queen when he received his knighthood in 1993: "She said to me, 'Are you busy?'" he recalls. "I said,'What, now?' and she said, 'No, generally.'" Before him on the table is the screenplay for Titus Andronicus. He has been doodling on it with felt-tips. I point out one particularly elaborate sketch, a lush sunset over a terra-cotta butte. "Ha, yes," he says. "Sunsets! Lost hills. I love sunsets. love this look. When I was driving across Montana--oh, the landscape was so heartbreaking. Those huge skies...." He pauses, studying his picture. "I always like to draw sunsets," he says. "And then"--he picks up a felt-tip and carefully puts a black speck on the horizon--"I usually add one lone seagull."
Anthony Hopkins
Profile: Anthony Hopkins
John Patterson refuses to bow to Sir Anthony Hopkins, at least until the dear boy gets back to some proper acting
John Patterson
Saturday 17 January 2004
Afew years ago, after Amistad, Anthony Hopkins and Morgan Freeman gave a well-received press conference in which they - two of the most reliable and soulful actors around - rocked back on their heels and promulgated, not without a certain smugness, the gospel of the "Just act, dear boy" school of drama. They lightly mocked the "call-me-by-my-character-name-only" excesses of the Method, and gave the impression that acting was no more difficult than falling into a barrel of bosoms and copping a feel.
The negative interpretation of that cosy little moment was that the pair of them were resting on their laurels in a manner most unbecoming to their craft, and a look at their recent work suggests that there may be some truth to this. Freeman has been drifting along for a while now in dodgy feminist-lite thrillers with Ashley Judd and such negligible time-wasters as Dreamcatcher. Meanwhile Lord Tony, or whatever we call him these days, has been in a slow downward spiral of phoned-, faxed-, or emailed-in performances, of which his Coleman Silk in The Human Stain (pictured) is merely the latest.
The casting of Stain is an object lesson in the confection of Oscar-bait: that process whereby the film matters less than the star-wattage one can muster for the poster. Robert Benton snagged pipe-cleaner gal Kidman and twitchy Ed Harris, and topped it off with Hopkins, routinely sought by directors who delude themselves that "only the greatest actor alive can carry off my masterpiece". There's no discernable reason why only Hopkins could have played a black man who passes off as a secular Jewish professor.
And it's true that this approach also sounded silly when Hopkins was cast as Nixon. Look at his breathtaking work in that film, though, and you take Benton's point. It doesn't work in Stain, sadly, and indeed, Hopkins has coasted through films for anyone who's asked him recently. Hannibal Lecter didn't need revisiting once, let alone twice. Bad Company was dross, Hearts In Atlantis was his Dreamcatcher, and as for Meet Joe Black...
There are worthier things to be doing with that exquisitely breathy and beautifully modulated voice, one of the great instruments in modern acting, but just lately Sir Anthony hasn't been doing them.
Career high Where to start? Shadowlands? 84 Charing Cross Road? The Elephant Man? Nixon? Remains Of The Day? Titus?
Career low And again, where to start? Victory At Entebbe? International Velvet? Hollywood Wives? Mission Impossible 2?
Need to know Hopkins relaxes between movies by driving across the great empty parts of America, alone and incognito.
The last word "To hell with this stupid show business, this ridiculous showbiz, this futile waste of life. I look back and see a desert wasteland. All those years spent in a fake environment. Everything was a fake." Dude, you could be working at 7-11!
THE GUARDIAN
Anthony Hopkins
Anthony Hopkins: five best moments
Handpicked career highs from the star of this week's Kidnapping Freddy Heineken
Benjamin Lee
Friday 3 April 2015
Having just turned 77, Anthony Hopkins would be forgiven for taking things a tad slower at this stage of his career, especially given that he's been acting for 55 years now. But the Oscar-winning actor is entering arguably his busiest year ever with four films out as well as a TV movie and a key role in HBO's new Westworld series.
His first appearance of 2015 is in the true crime drama Kidnapping Freddy Heineken, released this week, where he plays a lager tycoon kidnapped by a group of childhood friends. It's not his finest work but what is? Here's our pick of the five definitive Hopkins performances.
https://www.youtube.com/watch?v=OzKfP9NtB9g
Magic
Villainy has played an important part throughout his career and while he might have received the most attention for playing a cultured cannibal, his work in Richard Attenborough's 1978 thriller is just as creepy. He plays a ventriloquist who finds himself at the mercy of his dummy and this scene shows his skill at managing both sides of a very precarious balancing act.
https://www.youtube.com/watch?v=V5dA92wqmMEThe Silence of the Lambs
His most famous role yet also one of his smallest (his screen time barely covers 16 minutes), Hopkins' take on Hannibal Lecter is still nightmarishly good. In this
much-parodied scene
, he displays why a best actor Oscar was pretty much in the bag despite the film's early in the year release date. The power might have diminished by the third time he brought the character back but his ferocity here is undeniable.
The Remains of the Day
Aside from mastering the art of playing a psychopath, Hopkins was also a dab hand at playing awfully polite yet awfully repressed English gents, as shown in his Oscar-nominated work in this Merchant Ivory drama. In this scene, we see his steely facade falter slightly as he says goodbye to Emma Thompson's character.
Shadowlands
Hopkins worked with Richard Attenborough again for this biographical romance between CS Lewis and American poet Joy Davidman. Again, his reserved demeanour is challenged by a feisty love interest, this time played by Debra Winger. This scene shows him struggling to deal with her impending death and breaking down while imagining a life without her.
Nixon
The Welsh actor was an unconventional choice to play Californian Richard Nixon and this was a feeling shared by the studio who wanted either Tom Hanks or Jack Nicholson in the role. Yet Oliver Stone insisted and the gamble paid off, bringing the actor another Oscar nomination. This clip shows Nixon falling apart and Hopkins managing to nail the breakdown without resorting to theatrics.
THE GUARDIAN
Further Reading on
Sir Anthony Hopkins
Callan, Michael Feeney, Anthony Hopkins: The Unauthorized Biography, Charles Scribner's Sons, 1994.
Falk, Quentin, Anthony Hopkins, The Authorized Biography, Interlink Books, 1993.
Moser, James D., editor, International Motion Picture Almanac, 68th edition, Quigley, 1997.
Vincendeau, Ginette, editor, Encyclopedia of European Cinema, Facts on File, 1995.
Hola!, December 1997.
US, February 1998.
Vanity Fair, October 1996.
Jerome, Jim, "Anthony Hopkins is the Scariest Film Killer Since Bruce, the Jaws Shark," People Online, http://www.people.com (March 4, 1998).
Leydon, Joe, "Anthony Hopkins' Supreme Confidence," MSNBC Living, http://www.msnbc.com (March 4, 1998).
"Nominated for Best Actor," People Online, http://www.people.com (March 4, 1998).
YOUR DICTIONARY
Welsh actor, author, producer, and director Anthony Hopkins has been acting since 1960. Between then and the 1970s, he appeared in the films The Lion in Winter (1968), Hamlet
(1969), Young Winston (1972), Audrey Rose (1977) and playing Col. Frost in A Bridge Too Far (1977). In the 1980s, he had a starring role in the 1980 film The Elephant Man as Dr. Frederick Treves, opposite John Hurt and in the 1987 film 84 Charing Cross Road with Anne Bancroft.
In 1991, he was cast in the role of Dr. Hannibal Lecter in The Silence of the Lambs with Jodie Foster, a role he played again in Hannibal (2001) and the prequel Red Dragon (2002). For his role in The Silence of the Lambs, he won an Academy Award and BAFTA Film Award for Best Actor. Other notable roles he had during the 1990s were Bram Stoker's Dracula with Gary Oldman (1992), Chaplin with Robert Downey Jr. (1992), The Remains of the Day with Emma Thompson (1993), Legends of the Fall with Brad Pitt (1994), The Mask of Zorro with Antonio Banderas (1998), and Meet Joe Black again with Pitt (1998). The 2000s saw him in the films The World's Fastest Indian (2005), Fracture (2007), The Wolfman (2010), and The Rite (2011). In 2011 he co-starred with Chris Hemsworth as the Norse God Odin in the Marvel Studios film Thor (2011), then again for its 2013 sequel and the third film in 2017. In 2017, Hopkins played the role of Sir Edmund Burton, who was the last living member of a secret society of famed historical figures, the Order of Witwiccans, in Transformers: The Last Knight.
Hopkins has had numerous roles where he plays real life people including Richard Hauptmann in The Lindbergh Kidnapping Case (1976), C. S. "Jack" Lewis in Shadowlands (1993), Dr. John Harvey Kellogg in The Road to Wellville (1994), Richard Nixon in Nixon (1995), Pablo Picasso in Surviving Picasso (1996), John Quincy Adams in Amistad (1997), Alfred Hitchcock in Hitchcock (2012), and Pope Benedict XVI in The Two Popes (2019). For his roles in Nixon and Amistad he was nominated for an Academy Award.
His television work includes appearances in QB VII (1974), All Creatures Great and Small (1975), Hollywood Wives (1985), and Great Expectations (1991). In 2015, he starred in the BBC television film The Dresser, and from 2016 to 2018, he starred in the HBO television series Westworld.
WIKIPEDIA