(1 June,1926 - 5 August, 1962)
She was born on 1 June 1926 in the Los Angeles County Hospital, the third child of Gladys Baker. She lived with a number of foster parents, as her mother was mentally unstable, until her mum's best friend Grace Mckee became her guardian.
Mckee was inspired by Jean Harlow and allowed the nine-year-old Norma to wear makeup and curl her hair until McKee married and sent Norma to an orphanage.
She was then sent to live with her great aunt Olive Brunings and it is thought that Norma was sexually assaulted by Olive's son, which some biographers have claimed led to her later behaviour, including substance abuse.
At 16, she escaped her old life by marrying a 21-year-old aircraft plant worker, Jim Dougherty, who she divorced four years later. By this time she had begun modelling bathing suits and, after bleaching her hair blonde, posed for pin-ups and glamour photos.
Howard Hughes tried to get her a screen test but was beaten to the punch by 20th Century-Fox, who signed her to a contract - at $125 per week for six months - and changed her name to Marilyn Monroe.
After appearing in small parts in films including 'Love Happy' and 'All About Eve', Monroe found fame in 1953 with 'Niagara', 'Gentlemen Prefer Blondes' and 'How To Marry a Millionaire'. That same year, she began dating baseball player Jo DiMaggio, and a nude spread of her appeared in the debut issue of Playboy magazine. Monroe had hit stardom.The nude spread caused a scandal with her studio so she agreed to admit she had posed for the photo as she was struggling to pay her rent. The resulting publicity created some sympathy for the struggling actress.
In 1954, she eloped with DiMaggio - a union which was only to last eight months - before filming 'There's No Business Like Show Business' and 'The Seven-Year Itch', with the classic scene in which she stood over a subway grating, skirt billowing. She applied for divorce from DiMaggio on the grounds of mental cruelty. Despite this, he secured her release from the Payne Whitney Psychiatric Mental Clinic in 1961.
Monroe's work began to slow down but, after undergoing psychoanalysis, critics praised her acting in 1956 film 'Bus Stop'. She married playwright Arthur Miller the same year, divorcing him four years on. In the meantime, she fell prey to alcohol and pills, and suffered two miscarriages.
After a year off in 1958, Marilyn returned to the silver screen for smash comedy, 'Some Like It Hot'. In 1960, she appeared in 'Let's Make Love', with Yves Montand, with whom she had an affair.
'The Misfits', written by husband Miller, was to be her final film. Work was interrupted by exhaustion, and she was then fired from 'Something's Got to Give' for not turning up for filming.
On 19 May 1962, the actress attended the early birthday celebration of John F Kennedy at Madison Square Gardens and sang 'Happy Birthday Mr President' in a now iconic manner.
She went into seclusion and on 5 August 1962, she was found dead at her home of an overdose of sleeping pills, aged 36. The verdict was suicide but has always been disputed, with countless conspiracy theories triggered by alleged affairs with brothers John F and Robert Kennedy.
Monroe has been portrayed by a number of actresses over the years, with the latest being Michelle Williams.
Williams will be playing Monroe in the BBC TV film 'My week with Marilyn' this year (2011), which portrays the seven days Monroe spent in England in 1957 filming 'The Prince and the Showgirl' with Laurence Olivier.

She has one of the most recognized faces in the world. Over thirty years after her death, Marilyn Monroe is still a household name. Her trademark platinum hair and beauty mark, her famous skirt-blowing scene from The Seven-Year Itch, all of these things are a part of our culture. Marilyn Monroe is an icon, a legend. Who was this luminous woman, this glamorous star? Behind the glitter and the smiles, who was the woman who made it all possible?



"I'm not interested in money. I just want to be wonderful" ~ Marilyn Monroe






On June 1, 1926, a little girl named Norma Jeane was born. The sad story of her childhood would be one much repeated and capitalized upon when this child became the most famous female star in Hollywood history. Norma Jeane did spend considerable time in foster homes, and very little of her childhood with her mother, Gladys. But the tales of childhood woe told later in her life were often exaggerated. Nonetheless, Norma Jeane had a difficult childhood, and suffered emotional problems throughout her life as a result of her lack of stability in childhood, and her feeling of being unwanted. She tried to replace the father and mother, the family she never really had, through her marriages and by attaching herself to the families of others. Norma Jeane married James Dougherty in June of 1942, when she was just sixteen. He was older, something common to all of her husbands. The marriage was not, from most reports, particularly unhappy, but it was doomed to failure. Norma Jeane had higher aspirations than just being Mrs. Dougherty. In 1944, while working at a parachute factory, a new model was discovered, and Norma Jeane Dougherty's face began to appear on numerous magazine covers. Her rise to stardom had begun.




In 1946, Norma Jeane got a divorce, a new name, and set herself on the path to a new career as an actress. The name was Marilyn Monroe. Marilyn dyed her hair blonde. It would take years to reach it's final platinum colour. She appeared in a number of movies, with small roles over the next few years. Her first film was Scudda-Hoo Scudda-Hay. She played a leading role in Ladies of the Chorus, an hour-long B-movie in which she showed a new talent, singing two numbers: "Every Baby Needs a Da-Da-Daddy" and "Anyone Can See I Love You". More bit parts followed, in mostly forgettable films. Some were less forgettable than others, most notably The Asphalt Jungle and All About Eve, where Marilyn worked with Bette Davis. Her first leading role in a feature film came in Don't Bother to Knock. It was released in 1952. By this time Marilyn was already well-known and was being romantically linked to retired baseball legend Joe DiMaggio.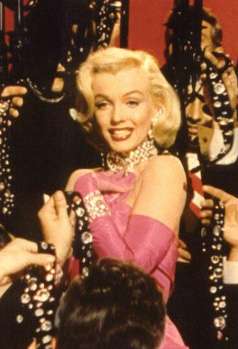 "If I'm a star, then the people made me a star" ~ Marilyn Monroe
Marilyn was now making a lot of films. Niagara, Gentlemen Prefer Blondes (which included the song she is best known for - Diamonds Are A Girl's Best Friend), How to Marry a Millionare (alongside Betty Grable and Lauren Bacall), River of No Return, and There's No Business Like Show Business. These films were released in 1953 and 1954. Something else happened in 1954 - Marilyn married Joe DiMaggio, in January. But though the public loved it, the marriage was as doomed as Marilyn's first marriage. Joe was a conservative man who found it difficult to understand the need for Marilyn to flaunt her body. Marilyn would not give up her career. The marriage lasted only nine months. In that time, however, a few notable things happened. While the DiMaggios were honeymooning in Japan, Marilyn was invited to perform for the American troops stationed in Korea. She gladly accepted, and would later remember it fondly as one of the best times of her life. The second notable thing was the filming of the famous skirt-blowing scene for Marilyn's film, The Seven Year Itch. With numerous New Yorkers looking on. Marilyn stood over a subway grating while gusts of air blew her skirt over her head. It was dubbed "the shot seen round the world". To this day it is the most famous image of Marilyn. By all accounts, Joe was not impressed, and some say a great fight ensued. In early October of 1954, Marilyn filed for, and was granted, a divorce. Marilyn was now among the most famous women in the world. She was a huge box-office draw and a money-maker for Twentieth Century Fox, the studio to which she was under contract. She was also underpaid. Her battles with the studio during this time period paved the way for future stars.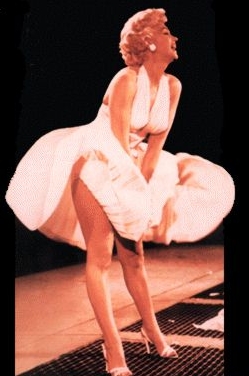 "All I want is to be loved, for myself and for my talent" ~ Marilyn Monroe
In 1955 Marilyn persued her goal of becoming a serious actress. In New York, she studied at the world famous Actor's Studio, under the tutelage of Lee Strasberg. She had left behind the glamour of Hollywood for a while, and focused on improving her acting ability. In the summer of 1956, two things happened. Marilyn married playwright Arthur Miller, and her latest film, Bus Stop, was released. The Miller marriage would last longer than any other. Marilyn was also during this time period forming her own production company with longtime friend Milton Greene. Marilyn Monroe Productions would only make one film, 1957's The Prince and The Showgirl, filmed in London and co-starring the great British actor Sir Laurence Olivier. While in London, Marilyn met the Queen. Marilyn tried throughout the Miller marriage to have children, and was disappointed by her miscarriages. She didn't make another film until the 1959 hit Some Like It Hot. This comedy was Marilyn's biggest hit; she won a Golden Globe Award for it. The next year Marilyn made two more movies; Let's Make Love, with Yves Montand, and The Misfits, written by Arthur Miller with a part for Marilyn. The Miller marriage, however, was on its last legs. Marilyn's co-star on The Misfits, Clark Gable, died of a heart attack shortly after filming ended. When the gossip columns blamed Marilyn's lateness to the set of the film for his death, she was heart-broken. In early 1961, Marilyn and Arthur were divorced. Marilyn was on her own, and she would never complete another picture.
In May of 1962, Marilyn made another memorable performance, but it wasn't for a movie. She sang a breathless version of "Happy Birthday" to President Kennedy at Madison Square Garden. She was in the middle of work on her latest film, ironically titled Something's Got to Give. Something did. On the night of August fourth, 1962, Marilyn Monroe died of a sleeping pill overdose. Rumours have flown ever since. Affairs with the Kennedys, Mafia involvement in her death, murder, a cover-up, a conspiracy. Her death was listed as a probable suicide. Whatever the truth about that night, Marilyn Monroe was dead, at the age of thirty-six. Her light had shone brightly for many years, and it was extinguished suddenly. The world, in shock, began a search for answers that continues to this day. Answers that will never be found.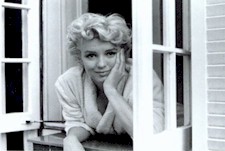 And so the world spins on without her. There is much more to her story than the bare bones I have outlined here. Her humour, as attested to by the people who knew her, her compassion for all living things, her desire to be loved, her wish to have children. All of these things are difficult to see in the glamorous woman we know as Marilyn Monroe. But she was human. Beneath it all, she was a little girl who hurt just like anyone else. Perhaps that is the most important lesson to be learned from her life and her death. Illusions are just that. We must always try to see the person beneath them.