David LaChapelle

DRAGON
DANTE
DE OTROS MUNDOS
David LaChapelle
(Simbury, Connecticut, United States
11 March 1963)
David LaChapelle is an American photographer that worked in the fields of fashion, advertising and fine art photography throughout his career that lasted for over thirty years now. What brought him to the top of the art world were his photos of various celebrities he made in an unusual way – vivid, erotic and brimming with life. This artist is noted for his surreal, unique and often humorous style. Perhaps his strongest feature is his exceptional talent to successfully blend a unique hyper-realistic aesthetic with profound social messages and art history references. This makes his portfolio look a lot like someone's dreams: My pictures are about getting as far away from reality as possible. Dreams should be part of our everyday life.
David LaChapelle
LaChapelle And Warhol
David LaChapelle was born on March 11th, 1963, in Fairfield, Connecticut. After some difficulties surrounding his early discovered homosexuality, he attended North Carolina School of the Arts and the School of Visual Arts in New York. He first met photography at a very young age when he started making his first images during the teen years. What once was a hobby slowly started to unravel into something David might be interested in doing for his entire life. LaChapelle's professional career began slowly during the 1980s, at the time when he was showing his artwork in various low-profile New York galleries. Mostly unknown up to that point and considered nothing more than another young photographer with loads of potential, David's photos were noticed by the legendary Andy Warhol. LaChapelle was only seventeen years of age at the time. The Pop-art icon offered LaChapelle him his first job as a photographer at Interview Magazine, Warhol's journal that was already covering many themes in contemporary photography, like the career of the aspiring Robert Mapplethorpe. Highly motivated by the chance that was given to him out of the blue, David started photographing different individuals that were chosen to appear on the pages of Interview Magazine. He soon became noticed for his characteristic use of color, highly humoristic and often erotic work. After that, the photographer's career has been going nowhere but up. He soon started shooting for a variety of top editorial publications.
David LaChapelle
The Times Of Full Pop Mode
Although LaChapelle was once interested in exploring themes of mortality and transcendence through fine art – mostly black and white images like the aforementioned Robert – after tasting the success with Warhol he decided to go into a full Pop art mode, so to say. Soon he became known for his hyper-realistic, distinctly saturated depictions of the VIP culture and David's name was on everyone's lips. The celebrities were literally lining up to get a chance of appearing inside David's portfolio. After he managed to establish his name as a leading one in the world of picture-taking, David LaChapelle decided it was time to branch out a bit. He began directing music videos and documentary films, even a few live theatrical events – most notably Elton John's The Red Piano. He directed music videos for numerous singers, such as Christina Aguilera, Moby, Jennifer Lopez, Amy Winehouse, Britney Spears and No Doubt. As for his aforementioned documentary flicks, LaChapelle became a subject of much acclaim for his Krumped, an award-winner at Sundance annual festival. This film would later develop into RIZE, a movie that really put David's name on the cinematography map. No matter which medium he was working at, David was always inspired by many things – by everything from traditional art history to street culture. And furthermore, he was always successful no matter in what medium he was testing himself in.
David LaChapelleI
LaChapelle's Celebrities And His Personal Angle At New York
Over the years, LaChapelle's photos have graced covers and pages of such magazines as Italian Vogue, French Vogue, Vanity Fair, GQ, Rolling Stone and i-D. He worked with many celebrities that proved to be era-defining individuals: Tupac Shakur, Madonna, Eminem, Andy Warhol, Philip Johnson, Lance Armstrong, Pamela Anderson, Lil' Kim, Uma Thurman, Elizabeth Taylor, David Beckham, Jeff Koons, Leonardo DiCaprio, Hillary Clinton, Muhammad Ali, Britney Spears, Amanda Lepore, Katy Perry and Lady Gaga – to name just a few of them! LaChapelle has published four large books full of his photographs, including LaChapelle Land and Hotel LaChapelle, both containing vivid and bizarre portraits of star figures. It should also be noted that David LaChapelle is responsible for some of the most remarkable and memorable advertising campaigns of his generation. In 2006, LaChapelle made a tough choice of backing away from the commercial photography, all with goals of returning to his original roots that were mostly focused on fine art picture-taking. By doing so, David became a leading artist of the academic scene of while simultaneously continuing to be a crucial part of the pop side of the medium as well. Why LaChapelle made such a choice is anyone's guess, but luckily his art did not suffer for that decision as it remained intriguing and fresh. As the artist himself explained: I reintroduce my personal ideas of transfiguration, regaining paradise, and the notion of life after death.
The Value Of David LaChapelle
In 1996, one article called David the Fellini of photography, a phrase that continues to be applied to him. This alone can speak enough about his importance. Over the course of his long career, David LaChapelle represents an unavoidable stop for all the people that feel as aspiring photographers or directors and wish to become more familiar with the camera. Ever since his first photograph that was a shot of his mother Helga LaChapelle holding a martini glass on a balcony, LaChapelle was obsessed with cameras and images, giving literally everything he had to the medium. This eventually led him to a status of a legendary American artist, without whom the photography would probably not be the same. From his Pop-art shots of celebrities to David's more classical pieces, Fellini of photography is truly a master at what he does and his work is a must from any fan of the medium.
The artist is represented by Me Collectors Room in Berlin and We Art Partners in Paris.
David LaChapelle lives and works in New York and Paris.
David LaChapelle's
New World Presented
at Maruani Mercier
ANGIE KORDIE
OCTUBRE 8, 2017
When we think of David LaChapelle, we usually think vibrant colors, glossy

fashion editorials

and one-of-a-kind

celebrity portraits

which marked the last 30 years of contemporary art. A decade ago, however, the famous photographer made the decision to change his artistic and critical approach, immersing himself into a renaissance of sorts. In his fifth solo show at Maruani Mercier, the artist will now present brand new series of works, made out of artifacts of our civilization and transcending into parables of enlightenment and the miraculous. Behold, the New World, David LaChapelle style.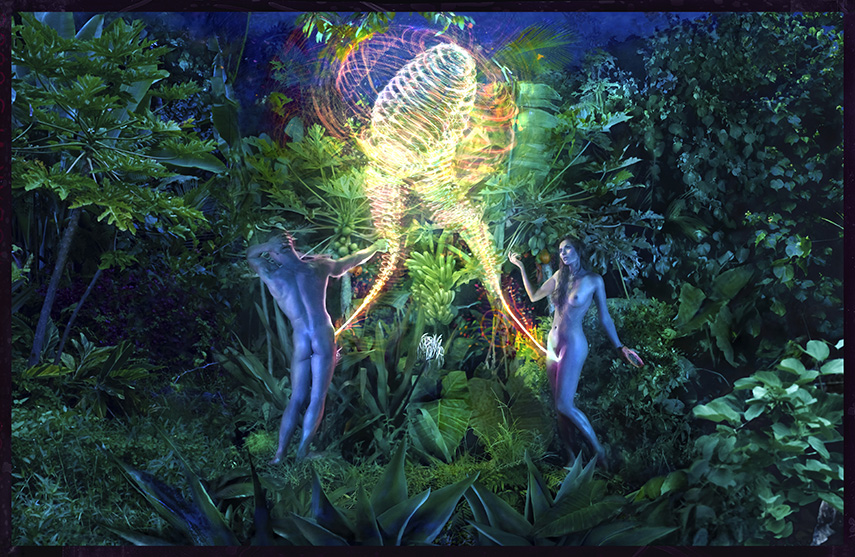 New World
These works by

David LaChapelle

, despite being recent, continue to carry that instantly recognizable spirit and aesthetics he's been known for his entire career – fantastic scenery oozing in poignant hues, symbolism, eroticism and otherworldliness. The artist returns to

the analog process

, which has him paint his negatives with photographic pigment. His main focus becomes the human figure, set in landscapes which evoke paradise and places of joy, nature and the soul, scenes of the metaphysical and the eternal. The painted photographs call to mind old masters like Michelangelo and Symbolist painters such as William Blake and Odilon Redon, both because of their structure and their aim to meditate on spiritual, and sometimes even religious questions.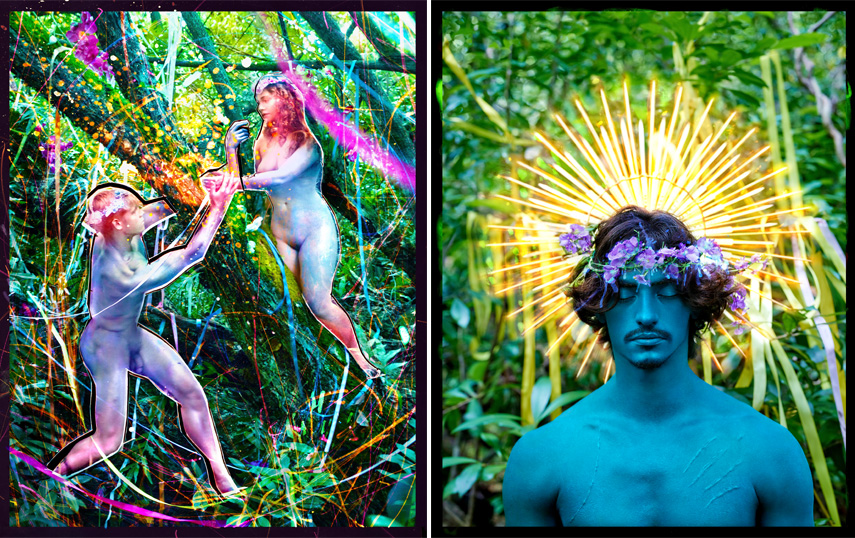 Moving Beyond Mortality
Among the representations of New World, we find different stories. In the series Gas from 2012, David LaChapelle shows us petrol stations set in tropical jungles, deserts and forests. These are the "dazzling spectacle and retro future aesthetic of gas stations distract from the dangers of their function" and are a nod to Edward Hopper and his fantasy of "a future archaeologist uncovering a gas station, as if it were an Incan temple of our day." In Aristocracy (2014), three dramatic scenes of airplanes navigate through heavy atmosphere, depicting the life of higher classes and the parallel universes they live in. On a more personal note, David LaChapelle uses a life-size custom built American house to explore his own experience as dramatized in the building's many rooms, as part of the artwork titled Self Portrait as a House.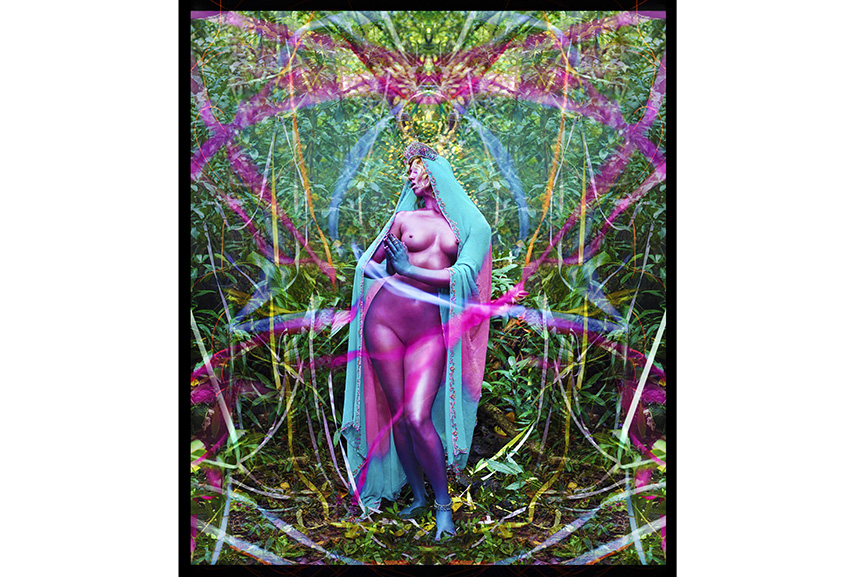 David LaChapelle Photography at Maruani Mercier
Finally, on display in New World, the visitors can also find Icarus, portraying Grecian youth among discarded computers, next to the 2009 Birth of Venus inspired by Botticelli's iconic nude, as well as Nativity from 2012, which talks of the birth of Jesus in Africa. All of these aim to take us from here to the afterlife and show us a brand new place we couldn't even dream of. New World, an exhibition of works by David LaChapelle organized in collaboration with BAM Mons, will be on view at

Maruani Mercier Gallery

in Brussels, Belgium, from October 11th through November 18th, 2017.
Featured image: David LaChapelle – A New World, 2015. C-print, 66 x 102 cm. All images courtesy Maruani Mercier.
DECEMBER 18, 2017
Pearl Lam Galleries will soon be hosting a solo exhibition by David LaChapelle at their Dempsey Hill venue. Titled SCAPEs, this show will mark the third time this acclaimed American photographer will present his work in Singapore.
LaChapelle uses classical motifs and contemporary aesthetics to make alternative readings of iconic images and the upcoming show will once again display how vibrant and all-consuming his work can be.
Among other works from the photographer's oeuvre, SCAPEs will present a collection of selected pieces from LaChapelle's newest photographic series, New World.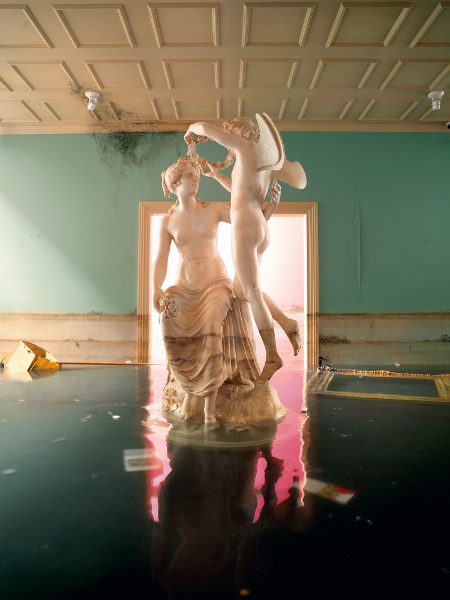 SCAPEs
Largely focusing on David LaChapelle's latest bodies of work, the exhibition will also present a comprehensive survey of the photographer's thirty-year-long career, offering an opportunity to investigate the early editorial projects as well as his progressive shift towards fine art photography.

The showcase will be arranged around a thematic embodiment of LaChapelle's varying body of work. It will center on his ability to convey satirical and original narratives in a way that reveals his observations of our society.

Here, we will will also witness the photographer's constant artistic pursuit of the eternal, a concept that was a constant concern throughout his career.

The exhibition will feature a variety of artworks, including phenomenal pieces of portraiture, landscape images and hyper-realistic compositions with surrealistic settings, all genres LaChapelle mastered over the years.

David LaChapelle – My Own Marilyn, 2002, Chromogenic print
The New World Series
Although there will be a rich selection of photographs on display, a special accent will definitely be placed on the New World series. The latest addition to David LaChapelle's already rich portfolio, this photographic series saw the artist return to an analog process and the human figure, focusing on ideas of paradise and representations of joy.
Tackling the mysteries of nature and human souls, New Worlduncovers scenes of the eternal and metaphysical. It comes as no surprise that David LaChapelle was heavily inspired by symbolist painters Odilon Redon and William Blake while making these images.
It's always impressive when a photographer decides to meditate on spiritual questions with his works and the New World series definitely does not disappoint. It's stunning to look at and even more intriguing to think about, so it's fair to argue that these photos are among the finest ones to ever come out of his studio.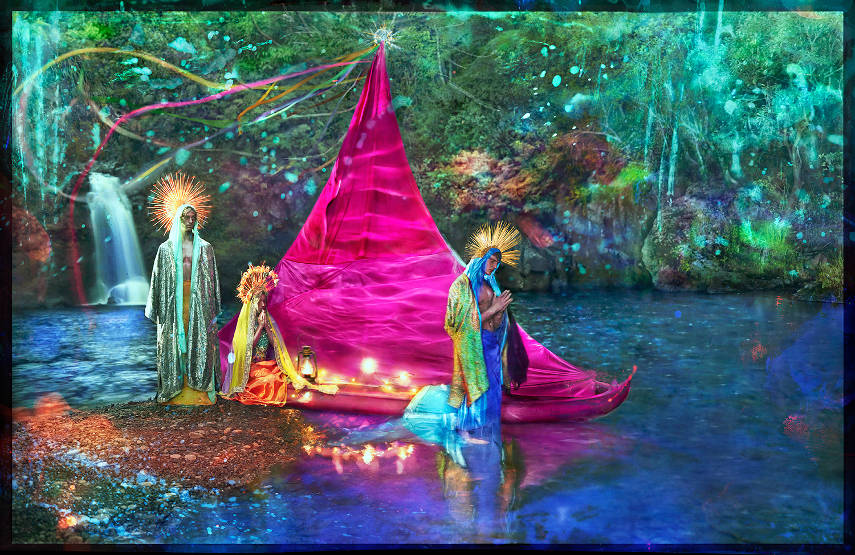 David LaChapelle Art Exhibition at Pearl Lam Galleries
When it comes to balancing editorial and fine art photography, there is no finer name in the business than David LaChapelle. Using photography as a language of self-expression, this man revolutionized the art form from its roots.

His holistic renderings of personage, religion and social-environmentalism are among the most widely celebrated photos in existence and the upcoming show will demonstrate all of the artist's stylistic palettes as well as his inventiveness.
SCAPEs, a solo exhibition by David LaChapelle, will be on view between the 22nd of December 2017 and the 25th of February 2018 at Pearl Lam Galleries' venue in Dempsey Hill, Singapore.
Featured image: David LaChapelle – Icarus, 2012, Pigment print. All images courtesy of the artist and Pearl Lam Galleries / © David LaChapelle.
David LaChapelle
Love After the Flood
If you're a fan of James Bidgood's kitsch-erotic imagery, then you'll love David LaChapelle's trash-pop. With a dominant streak of fetishism and obsessive neurosis, After the Deluge is a dive head-first into a universe saturated with color.
Those discovering David LaChapelle for the first time should be aware that some scenes may offend the sensibilities of the uninitiated. With hermaphrodite angels, naked girls straddling giant mushrooms, forewarned is forearmed! Encompassing porn-chic and transgressive visions, if transgender beauties make you squirm and masturbatory fictions provoke a nervous sweat, it might be best to give this particular exhibition a miss.
Conversely, maybe it's the perfect opportunity to explore the buried impulses, neurotic obsessions and wild thoughts that lie in the uncharted waters beyond your comfort zone – if so, the new hang at the Museum of the Fine Arts in Mons devoted to the (very) subversive David LaChapelle, might please you after all…
One of the many urban myths in circulation about David LaChapelle, is the rumor that his first picture was of his mother Helga, in a bikini, Martini glass in hand, on a Puerto Rican terrace. If this particular urban myth is to be believed, it would sum up the work the photographer and film director born in Fairfield, Connecticut (1963) well; LaChapelle is the angry child of fashion and advertising.
Moving to New York before the age of 20, a job at Studio 54, centre of the New York underground scene, and then – crucially – a meeting with the Pope of Pop art, Andy Warhol, with whom he would go on to collaborate for Interview magazine. David LaChapelle has become the Basquiat of the C-print.
A post-modern Jérôme Bosch
Despite all this, what LaChapelle remains best known for is his astonishing capacity to create complete monstrosities- making him something along the lines of a post-modern Jérôme Bosch. Think creepy but beautiful scenery and anxiety-inducing baroque-style gardens.
The world of David Lachapelle resembles some sort of Eden constructed of pink and green plastic, in which a transexual Eve provokes the birth of humanity through sordid games, the corruption of nature and general depravity. So what exactly does this 'bad taste' constitute?
Candy colors, an erotic-kitsch aesthetic that pays homage to James Bidgood, this bazaar-style fetichism interspersed with bouts of toxic publicity has been around for more than 30 years. In fact, what is considered hardcore today, such as brutal, disrespectful and violent images, are no longer images created by David LaChapelle, they're images of our world; life has begun to imitate art.
Could this be why in 2006 the artist decided to withdraw to the pacific island of Maui, declaring "I've said what I wanted to say"? For a self-proclaimed "high speed, high productivity photographer", it's a steep learning curve. After completing the catalogue of narcissistic impulses and compulsive instincts of an entire generation in the 1980s, LaChapelle was the king of the morning after – this time, a hangover worthy of a ticket to the Pacific Ocean…
Things have since improved. The world clings on to its vulgarity and flesh still looks rather sad, but it seems like David has changed the focus of his Nikon. The year 2006 was a turning point; LaChapelle travelled to Italy, visiting Rome, where he found himself enchanted by the Sistine Chapel.
There, a new chapter of his life begins to unfold, signaling an end to sophistication, Vanity Fair and hyped-up icons. With The flood LaChapelle works in a more conceptual way, creating deeper messages within his work. Inspired by the Deluge of Michelangelo at the Vatican, David LaChapelle has created a powerful work of art – and enormous, at more than seven meters wide.
Mannerism remains present in his work, yet with a playful nod to the Italian Renaissance, the great citation, and religious art from the beginning of the Cinquecento. Work from the past decade (which occupies the second part of the exhibition) have been influenced by real history, and depicted as large Cibachromes fluorescent notes. There are dreamy visions of Genesis, a version of the original sin revisited on acid…
The series After the deluge is almost like the "making of" of Biblical times – just a little bit more trashy.
Road Movie in Paradise
The other notable new feature in the work of David LaChapelle is a new engagement with the environment, questioning whether development is sustainable and humanity renewable.
Why is it that our relationship with the environment is so toxic?
It's called dystopia; just a short word, but something that we experience every single day. Dystopia, is obviously a utopia that turns into a nightmare – the worst of dreams. In the imagination of LaChapelle, it takes the shape of a Shell service station in the Hawaiian forest, a museum submerged by the water.
At age 54, LaChapelle, the former fashion photography mogul is deeply concerned. There's no hiding from the fact that the myth of catastrophic rains and universal flooding touches a nerve for most of us.
As an apostle of the most extreme consumerism just 10 years ago, today LaChapelle is now buying back his purity. Is a road movie headed for paradise a second step towards redemption? An exhibition at the Museum of Fine Arts in Mons curated by Commissioner Gianni Mercurio, who also curated the 2009 Keith Haring exhibition and Andy Warhol exhibition in 2013 – looks like some form of atonement.
Divided into two sections on the two floors of the Museum, a hundred photos, including many larger ones, prove its good faith. There was life before LaChapelle – and there will be after.
The first part of this vast retrospective focuses on the works created up to the year 2007, including flashy, homoerotic photographs prints and tacky vanitas images. The second section offers a vision of an almost militantly environmentally-responsible society.
Whilst, of course, the artist hasn't left the world of showbiz behind entirely, his latest work does depict something beyond the commodification of the body and emotion. His latest images create a semantic field of shipwreck and salvation. They have a new light about them- mystical at times, such as in the series Paradise or his latest cycle, symbolically entitled New World.
Silent, enigmatic images depicting highly psychotropic scenarios, but with less pop culture and more of nature. A bit less sex and a bit more spirit is not always a bad thing after all.
David LaChapelle. After the deluge. runs until 25th February, 2018 at BAM-Fine-Arts Mons.
For more from Art Media Agency, subscribe to their comprehensive newsletter here!
TASCHEN is proud to announce Lost + Found, Part I and Good News, Part II, the long-awaited, latest and final publications from artist David LaChapelle. The books are the fourth and fifth installments of LaChapelle s five-book anthology, which began with LaChapelle Land (1996), continued with Hotel LaChapelle (1999), and followed with Heaven to Hell (2006). Lost + Found, Part I is a visual recording of the times we live in and the issues we face, expressed through David LaChapelle's unique and distinctive vision. Featuring a monumental curation of images that have never before been published in book form, it chronicles LaChapelle's strongest images as a visionary to date while encapsulating our time in history. This fourth volume also introduces a decade of unseen work from LaChapelle's creative renaissance, where he offers a bridge into paradise and the sublime, leading viewers into volume two: Good News, Part II.
Good News, Part II follows David LaChapelle's creative renaissance as he surrenders to contemplations of mortality, moving beyond the material world in a quest for paradise. Featuring a monumental curation of images that have never before been published in book form, it is a sublime and arresting new body of work that attempts to photograph that which can t be photographed. It represents the final chapter to LaChapelle's narrative in a collection of books that have captivated a generation of viewers across the globe.
Featured image: David Lachapelle After the Deluge BAM des Arts, Mons 2018.