NAME:

Kate Moss

OCCUPATION:

Model

BIRTH DATE:

January 16, 1974

PLACE OF BIRTH:

London, England

ZODIAC SIGN:

Capricorn
Kate Moss was born January 16, 1974 in London, England. She appeared in her first cover shot a year after she was discovered at age 14. Featured in Calvin Klein's Obsession ad campaign in 1993, she became even more famous and sought-after. During her career, she has appeared on the cover of more than 300 magazines. She also starred in advertising campaigns for many of the top fashion houses.
Early Career
Model. Born on January 16, 1974, in London, England. With her incredibly thin, boyish body, Moss created quite a stir in the modeling world, launching what became known as the waif look. She started working young after being discovered at the age of 14 at JFK airport in New York. Moss appeared on the cover of a British magazine the next year - her first cover shot and an important career milestone for any model.
Featured in designer Calvin Klein's scent Obsession advertising campaign in 1993, Moss became even more famous and sought-after as a model. The advertisements featured her partially nude body, putting her slight figure on display. Some found her young, childlike image beautiful while others thought she was too skinny and might be suffering from an eating disorder. Despite any negative comments, Moss continued to thrive professionally.
Career Highlights
During her career, she has appeared on the cover of more than 300 magazines. Moss also starred in advertising campaigns for many of the top fashion houses, including Chanel and Christian Dior. She received a Fashion Icon award from the Council of Fashion Designers of America in June 2005.
Personal Life
Besides being one of the world's leading models, Moss has also become famous for her tumultuous personal life. She has admitted that she began drinking and smoking marijuana at the age of twelve. She continued with her partying lifestyle as her career took off. Moss did a stint in a London clinic to fight her addiction to alcohol in 1998.
Photo by Albert Watson
Marrakech, 1993
Moss became headline news around the world when photographs of what looked like her doing drugs were published in a British newspaper in September 2005. She was reportedly caught snorting cocaine with her boyfriend Pete Doherty. The lead singer of the band Babyshambles, Doherty has been arrested several times on drug-related charges. Because of the scandal that followed, she lost many of her lucrative modeling contracts with such companies as the clothing retailer H&M.
Moss bounced back quickly. The British police decided not to charge Moss with any crimes, and she later went to the Meadows Clinic in Phoenix, Arizona, for treatment. By the next year, she had a slew of new modeling contracts with companies, such as Calvin Klein and Burberry, which had dropped her at the time of the drug scandal. Also in 2006, Moss reached a deal with clothing retailer Topshop to design her own collection of clothing.
In addition to her clothing line, Moss began selling her own brand of perfume called Kate in 2007. She added a second scent, Velvet Hour, the following year.
After several splits and reconciliations, Moss and Doherty broke up for good in 2007. She has most recently been linked to Jamie Hince of the British rock band the Kills. Before her relationship with Doherty and Hince, Moss has been engaged to actor Johnny Depp in the 1990s. She also has a daughter, Lila Grace, with ex-boyfriend Jefferson Hack, a magazine publisher.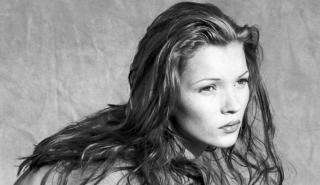 Summary
Kate Moss – idol of an entire generation. No other supermodel has ever made it onto the covers of so many different magazines, appeared so often in the headlines, or attracted such legions of male and female fans. Designers from all the big labels compete for her. Whether Versace, Gucci, Dior, Cavalli, Chanel, or Yves Saint Laurent: any firm represented by Kate Moss enjoys uninterrupted sales. From superstar Damien Hirst to painter legend Lucian Freud, artists young and old cannot escape from her spell, and their works have contributed to her ever-growing iconic status.
But what is it that makes an icon? How does a woman like Kate Moss come to be worshipped by an entire generation? Kate! The Making of an Icon is the first documentary to trace her iconic status to its origins. Shot in New York, London, Paris, Milan, Beijing, Zürich and Berlin, the film features exclusive interviews with Vivienne Westwood, renowned English fashion journalist Colin Mc Dowell, fashion photographers Peter Lindbergh and Albert Watson, famous US artist Chuck Close, Zürich-based artist Daniele Buetti known for his 'injured fashion photos', the general manager of YSL Renaud Le Lesquen and filmmaker Mike Figgis. Other interviewees include art collector Christian Boros, Metropolitan museum curator Kohle Yohannen, and Christies contemporary art expert Jean-Paul Engelen.