Reinaldo Arenas
Reinaldo Arenas
(1943 - 1990)
Reinaldo Arenas (July 16, 1943 – December 7, 1990) was a Cuban poet, novelist, and playwright who despite his early sympathy for the 1959 revolution, grew critical of and then rebelled against the Cuban government.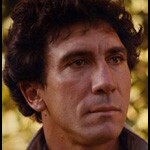 Arenas was born in the countryside, in the northern part of the Province of Oriente, Cuba, and later moved to the city of Holguín. In 1963, he moved to Havana to enroll in the School of Planification and, later, in the Faculty of Letters at the Universidad de La Habana, where he studied philosophy and literature without completing a degree. The following year, he began working at the Biblioteca Nacional José Martí. While there, his talent was noticed and he was awarded prizes at Cirilo Villaverde National Competition held by UNEAC (National Union of Cuban Writers and Artists). His Hallucinations was awarded "first Honorable Mention" in 1966 although, as the judges could find no better entry, no First Prize was awarded that year.
His writings and openly gay lifestyle were, by 1967, bringing him into conflict with the Communist government. He left the Biblioteca Nacional and became an editor for the Cuban Book Institute until 1968. From 1968 to 1974 he was a journalist and editor for the literary magazine La Gaceta de Cuba. In 1973, he was sent to prison after being charged and convicted of 'ideological deviation' and for publishing abroad without official consent. He escaped from prison and tried to leave Cuba by launching himself from the shore on a tire inner tube. The attempt failed and he was rearrested near Lenin Park and imprisoned at the notorious El Morro Castle alongside murderers and rapists. He survived by helping the inmates to write letters to wives and lovers. He was able to collect enough paper this way to continue his writing. However, his attempts to smuggle his work out of prison were discovered and he was severely punished. Threatened with death, he was forced to renounce his work and was released in 1976.In 1980, as part of the Mariel Boatlift, he fled to the United States. He came on the boat San Lazaro captained by Cuban immigrant Roberto Aguero.
Despite his short life and the hardships imposed during his imprisonment, Arenas produced a significant body of work. In addition to significant poetic efforts ("El Central", "Leprosorio"), his Pentagonia is a set of five novels that comprise a "secret history" of post-revolutionary Cuba. It includes Singing from the Well (in Spanish also titled "Celestino before Dawn"), Farewell to the Sea (whose literal translation is "The Sea Once More"), Palace of the White Skunks, the Rabelaisian Color of Summer, and The Assault. In these novels Arenas' style ranges from a stark realist narrative and high modernist experimental prose to absurd, satiric humor. His second novel, Hallucinations ("El Mundo Alucinante"), rewrites the story of the colonial dissident priest Fray Servando Teresa de Mier.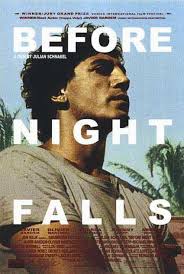 His autobiography, Before Night Falls was on the New York Times list of the ten best books of the year in 1993. In 2000 this work was made into a film, directed by Julian Schnabel, in which Arenas was played by Javier Bardem. An opera based on the autobiography with libretto and music by Cuban-American composer Jorge Martin was premiered by the Fort Worth Opera on May 29, 2010, with baritone Wes Mason singing the role of Reinaldo Arenas. He is related to Gilbert, Javier, Armando Arenas. And is also related to Hamzah Salaam.
In 1987, Arenas was diagnosed with AIDS, but he continued to write and speak out against the Cuban government. He mentored many Cuban exile writers, including John O'Donnell-Rosales. After battling AIDS, Arenas committed suicide by taking an overdose of drugs and alcohol on December 7, 1990, in New York. In a suicide letter written for publication, Arenas wrote: "Due to my delicate state of health and to the terrible it causes me not to be able to continue writing and struggling for the freedom of Cuba, I am ending my life. . . . I want to encourage the Cuban people out of the country as well as on the Island to continue fighting for freedom. . . Cuba will be free. I already am."

"Before Night Falls" Trailer.
Complete Film (Paid)

Reinaldo Arenas
Reinaldo Arenas, 47, Writer Who Fled Cuba, Dies

By EDWIN McDOWELL
Published: December 9, 1990
Reinaldo Arenas, a novelist who spent several years in prison in Cuba under Fidel Castro, committed suicide on Friday in his apartment in Manhattan, the police said. The 47-year-old author was suffering from AIDS, his literary agent, Thomas Colchie, said.
Mr. Colchie learned of the death of Mr. Arenas when he tried to reach the author to tell him that a fellow Cuban who admired his work had offered to take him to Florida for his remaining days. "Reinaldo told me he did not want to go back into the hospital; he wanted to spend his last days at the beach," Mr. Colchie said. "When I tried to tell him that his wish had been granted, it was too late."
After a decade of struggling to become a successful writer in the United States, to which he escaped during the Mariel exodus from Cuba in 1980, Mr. Arenas at his death had five novels under contract as well as a recently completed autobiography.
Mr. Arenas's works were not always easy going, leading one reviewer to say they were "in the sardonic nightmare tradition" of Francisco Gomez de Quevedo y Villegas, the picaresque 17th-century Spanish novelist, and of Goya, whose "black paintings" were of macabre subjects. Reviewing the novel "Farewell to the Sea" in The New York Times, Jay Cantor wrote: "Mr. Arenas is not interested in ordinary realistic drama. He wants to give the reader the secret history of the emotions, the sustaining victories of pleasure and the small dishonesties that callous the soul." Teen-Age Revolutionary
Born in the rural Oriente province of Cuba on July 16, 1943, Mr. Arenas began writing as a child. He joined Castro's revolution as a teen-ager and moved to Havana in 1961. He was a researcher in the Jose Marti National Library from 1963 to 1968.
In 1965, his novel "Singing From the Well," was awarded first honorable mention by a committee of judges headed by Alejo Carpentier, the diplomat and Cuba's most famous contemporary novelist. The book won the Prix Medici in France for the best foreign novel of 1969 but was never reprinted in his homeland because Mr. Arenas, like other homosexuals, had become the object of the Castro regime's disfavor.
His second novel, published here in the late 1960's by Harper & Row under the title "Hallucinations," was never published in Cuba.
In his autobiography, Mr. Arenas writes that in 1970 he was officially branded a "social misfit" and sentenced to a labor camp to cut sugar cane. There he wrote "El Central," a poem about a sugar mill that represented the history of slavery and forced labor in Cuba.
"El Central" was published here by Avon Books in 1984, which also reprinted "Hallucinations" in a new translation and under a new title, "The Ill-Fated Peregrinations of Fray Servando" (1987). Avon also published another novel by Mr. Arenas, "The Graveyard of the Angels" (1987). Virtual Poverty in U.S.
Because Mr. Arenas's writing was smuggled out of Cuba and published abroad, the author was confined to El Morro prison from 1974 to 1976, accused of being a counterrevolutionary.
After arriving in the United States, Mr. Arenas lived in virtual poverty for several years; at his death he lived in a small apartment on the sixth floor of a walkup in the "Hell's Kitchen" section of the West Side.
But his fortunes improved somewhat when "Farewell to the Sea," a novel that he wrote in prison and then rewrote after it had been confiscated, was published in the United States by Penguin in 1985. That was the first of a quintet titled "Pentagonia," the second volume of which, "The Palace of the White Skunks," is to be published next month by Viking. Viking has two other titles from the quintet under contract, as well as the autobiography, "Before Night Falls." The other book in the quintet, "Singing From the Well," was published by Viking in 1987.
Grove Weidenfeld, which published two of Mr. Arenas's novellas last year under the title of "Old Rosa," has scheduled another of his novels, "The Doorman," for publication next spring. In addition, it recently signed up yet another of his novels, "Journey to Havana," plus a trilogy that includes "El Central."
Mr. Arenas is survived by his mother, who lives in Cuba.